APPLY NOW: Himachal Pradesh Public Service Commission releases vacancies for Assistant Professor post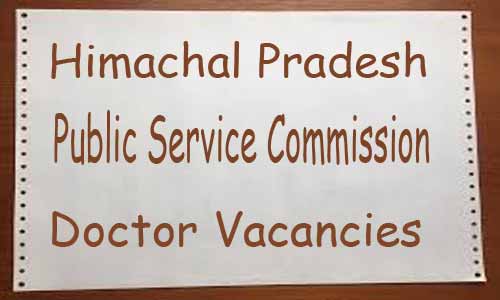 Shimla- The Himachal Pradesh Public Service Commission (HPPSC) has released 15 Vacancies for Assistant Professor post. The selection will be done based on the interview.
HPPSC has been established under Article 315 of the Constitution of India. The Commission consists of a Chairman and three Members. The terms and conditions of service of Chairman and Members of the Commission are being governed under the State Public Service Commission (MEMBER) Regulations, 1971.
Vacancy Details:
Total no of vacancies: 15
The vacancies are in the Department of- Anatomy, Physiology, Pharmacology, Pathology, Microbiology, Community Medicine, General Medicine, Paediatrics, General Surgery, Orthopedics, Obstetrics & Gynecology, Anesthesiology, and Radiotherapy.
Last Date of Application: 16th January 2020.
For more details about Qualification, Age, and Pay Allowance and much more, click on the given link:
https://medicaljob.in/jobs.php?post_type=&job_tags=HPPSC+Vacancies&location=&job_sector=all
What are the Terms & Conditions?
1. The date for determining the eligibility of all candidates in respect of essential qualification(s) and experience, if any, etc., shall be the prescribed closing date for submission of ORA (Online Recruitment Applications) i.e. 16th January 2020.
2. The candidates must read instructions carefully, which are available on the website of the Commission before applying for the post(s) concerned.
3. The candidates must establish their eligibility in respect of category, experience, age and essential qualification(s), etc. as mentioned in the advertisement by submitting copies of certificates of essential qualification, Matriculation certificate as age proof, category certificate and experience certificate (where required) to avoid rejection of their candidature after the closing date.
4. The benefit of reservation for various post(s) will be admissible only to the candidates, who are bonafide residents of Himachal Pradesh in respect of categories, viz., S.C., S.T., O.B.C., EWS, Ex-Servicemen, WFF and Persons with disabilities (Locomotor Disabled / Visually Impaired/ Hearing Impaired), etc.
5. The reserved category candidates belonging to other States will be treated as GENERAL CATEGORY CANDIDATES and the benefit of reservation and fee concession will not be admissible to such candidates.
6. The candidates should possess requisite essential qualification(s) prescribed for the post(s) for which he/she wants to apply as on closing date I .e1 16th January 2020 for submission of Online Recruitment Applications (ORA) on the website www.hppsc.hp.gov.in/hppsc
7. The number of posts (s) is/are tentative and may increase or decrease from time to time.
8. No in service (regular service) candidate will be interviewed unless he/she brings NOC from the concerned employer.
9. Examination fees once paid will not be refunded.
10. Disputes, if any, shall be subject to Court jurisdiction at Shimla.
11. The candidates are required to submit a printout of online recruitment applications (ORA) along with self-attested/ attested copies of requisite documents in support of their eligibility for the concerned post(s) on the day of Screening Test and in other cases where direct Personality Test will be held, 10 days time will be given to submit requisite documents failing which his/her candidature shall finally reject as per essential qualification(s) for the concerned post(s). No extra time will be given for the submission of any documents.
Read Also: JOB ALERT: ESI Hospital Delhi releases 38 vacancies for SR, Specialist posts in various Specialties