AYUSH Ministry nominates Dr Asit Panja to frame WHO Guidelines on Ayurveda treatment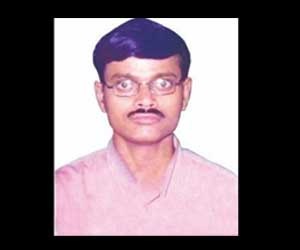 Kolkata: To work towards the formulation of a standard procedure and frame guidelines of International protocol in Ayurveda treatment for the World Health Organisation (WHO), Dr Asit Kumar Panja, has been nominated as an expert by the Ministry of Ministry of Ayurveda, Yoga & Naturopathy, Unani, Siddha and Homoeopathy (AYUSH).
Dr Panja, a renowned face in the field of Ayurveda hails from an obscure village in Bankura's Joyrambati, a Bachelor of Ayurvedic Medicine and Surgery (BAMS) from Calcutta University in 1997 with three distinctions in Itihas, Agad, and Charak. He completed his MD in Ayurveda Samhita from Rajasthan Ayurveda University in 2003. He secured Phd from Dr Sarvepalli Radhakrishnan Rajasthan Ayurved University in 2008. Presently, he is appointed as a professor at the National Institute of Ayurveda (NIA), Jaipur.
He has been in the field of research for the last 15 years and associated with various research projects of AYUSH and WHO. He has gained recognition on national as well as international platforms for his work in the field of Ayurveda.
Last year, in April, he was awarded the prestigious 'Young Scientist Award' in the category of Literary Research by the Central Council for Research in Ayurvedic Sciences under the Ministry of Ayush.
Read Also: New Delhi: Patel Chest Institute Director Dr Raj Kumar feciltaied with prestigious WHO award
He bags 14 books in Ayurveda as an author. He performed various researches in connection to the ancient literature and has given his contribution in national as well as international platforms in the field of Ayurveda. He has worked towards the conversion of ancient manuscripts to the modern form to implement the traditional methods of treatment.
Following the nomination by the ministry, Dr Panja will be going to the WHO headquarters at Geneva in July.  After the completion of the project, he will work in eradicating the deficiency that exists in the guidelines due to which people without obtaining a requisite degree are busily recommending Ayurveda treatment.
He will be submitting the documents to the WHO which will be eventually published as a standard methodology for the treatment not only in India but also across the globe. Along with this, he would be helping WHO in publishing a standard terminology in the field, reports the
Millennium Post
.