BDS to MBBS Bridge Course: MCI, DCI to review BDS currciculum to Examine Feasibility of Proposal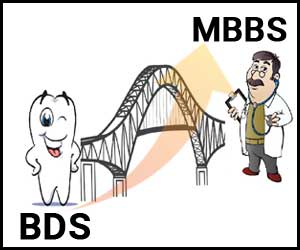 New Delhi: The proposal of BDS to MBBS Course may see some action in the times to come as the Medical Council of India (MCI), along with the Dental Council of India (DCI) and the Union Health Ministry (MOHFW) will review the curriculum of BDS in this regard.
The purpose of the entire review of the curriculum would be to analyse and determine the
feasibility
of the
proposal and to determine whether it is possible to Leverage Dentists to fill present gaps of the doctor shortage in the system
Medical Dialogues team had earlier reported that in the year 2016, the Dental Council of India had put forward the proposal of a bridge course to the government as a solution to two major problems that the country is facing-  On one hand there is a severe shortage of MBBS doctors particularly to serve in the rural areas, on the other hand dental students are currently facing a large problem of placements and recruitment after the completion of their courses.
Read Also: Soon, Dentists to Become Physicians
The Medical Council of India and the Dental Council of India have been since then in the process of examining whether it is possible to design a bridge course to enable BDS passouts to pursue MBBS in the country.
Read Also: BDS to MBBS Bridge course being finalised by MCI, DCI
Last year a special committee was constituted by MCI under the chairmanship of Dr Ved Prakash Mishra for this purpose. The committee began addressing a number of technical issues, including the what will be the coursework and the fact whether dental students will have to undergo another round of internship as per the MBBS curriculum. The issue was also to be decided where these bridge pass-outs students will be registered ( MCI or DCI or dual registration ) as well as which council will be entrusted with the operations of running the said course.
With the MCI being taken over by the Board of Governors, the matter was then passed to the new body.
The proposal also saw some momentum,  earlier this year when a meeting that was held at the PM's office on 9th April 2019, regarding the scaling up of medical education in India. In the said meeting, it was inter-alia decided to explore the option of allowing dentists to practice family medicine/mainstream medicine following a bridge course. The same was then sent to the Medical Council of India regarding Examination of the proposal
Providing the Action Taken Report on the PMO Minutes of 9th April. 2019, the MCI Board of Governors, in its recent meeting while approving  the ATR on the matter noted that "MCI will participate with DCI and MOHFW to review the curriculum of BDS and  then examine the feasibility of the proposal."