Bollywood megastar Amitabh Bachchan launches 'TB Free Haryana' drive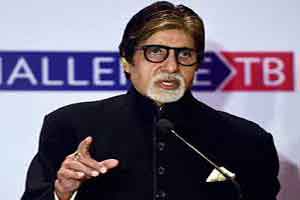 Bollywood megastar Amitabh Bachchan, along with Chief Minister Manohar Lal Khattar, launched the "Tuberculosis (TB) Free Haryana" programme . The Big B said there was a perception in the society that weaker, poor and disadvantaged section of society were the most victim of TB, "but it is wrong".
He said anyone could get afflicted with TB irrespective of the surroundings and "I am one such example". On the occasion, Amitabh shared that he once developed TB. "Even I developed the TB disease in 2000, but I was perfect after few months regular treatment." The disease is 100 percent curable. "I became the part of this mission and I will be happy if my endorsement for the cause can help safeguarding health of the people," he added. "Beti Bachao Abhiyan" is a wonderful initiative to save the girl child, said Amitabh, adding that he was willing to be associated with the campaign in Haryana. On the occasion, two 'TB free Haryana Vans' were also launched at the Medanta - The Medicity hospital auditorium in Gurgaon.
The vans, equipped with chest X-Ray machines and other diagnostics, will patrol around the state on a weekly basis to identify the people suffering from TB. The TB-free Haryana programme is divided into three phases and Rewari, Gurgaon, Mewat, Palwal and Jhajjhar (South-East part of the state )will be covered in the first phase. US ambassador to India Richard Verma, Delhi's Principal Secretary Anshu Prakash (Health and Family Welfare), Haryana minister Rao Narbir Singh, noted cardiac surgeon and MD of Medanta Dr. Naresh Trehan were among those present at the event.
Read Also