Bravo: Indian doctor-couple provides medication mid air, save 63 year Australian lady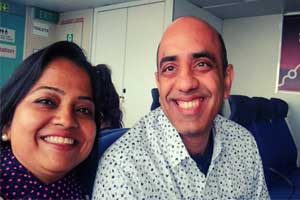 Mumbai: An Indian doctor couple recently received accolades for their humane gesture of saving life of a 63-year old fellow passenger by providing emergency help mid-air.
Better India reports about the feat by the doctor couple, Dr Nitin who is Laparoscopic Surgeon and Dr Neeta Zabak is a child specialist, who were travelling from Perth to Singapore via Singapore Airlines. They run the City Multicare Hospital in Kalyan.
After one hour of flight, the crew announced that there was a medical
emergency
and sought medical help.
An elderly Australian lady, Annie, in the flight started sweating profusely and even had an involuntary passage of urine. Within no time she fell unconscious.
Read Also: Bravo: Doctors performs CPR, revive patient mid air
The doctor couple, sitting few seats away from the woman volunteered for help despite the limited availability of resources.
Dr Neeta informed
The Better India
, that the first step done was conducting a CPR (Cardiopulmonary Resuscitation) to revive the patient. The lady gained her consciousness with initial chest compressions, her pulse was still feeble. An IV line was inserted in a mobile phone's torchlight which was not challenging for her.
"We feared that she may have some heart-related complications. We took care of that and gave her sublingual sorbitrate and 300 mg aspirin that widened her blood vessels and allowed her blood to flow with ease," Dr Neeta further added.
After the condition was under control, the flight captain asked if there was a need of emergency landing. As the inflight-equipment was enough to monitor her condition, so the doctors let the flight continue.
After the flight landed in Singapore, a medical team was ready to take the lady to hospital.
The doctor couple received a standing ovation from the crew members as well as the fellow passenger along with a gift hamper has the token of appreciation.
Tony Huber, Australian Consulate General in Mumbai lauded the efforts of the Zabaks. He tweeter



Kudos to 🇮🇳 Dr Nitin and Dr Neeta Zabak from #Maharashtra who saved the life of an 🇦🇺 citizen mid-flight by providing emergency assistance


— Tony Huber (@AusCG_Mumbai) April 15, 2019
After returning to India the doctors received a message regarding the stable health condition of Annie which mentioned that the hospital where Annie has been admitted, said she suffered from hypoxia, a condition in which the body doesn't get enough oxygen, and not cardiac arrest, as feared, reports
TOI
.