Bravo: Odisha Surgeon revives passenger Mid-Air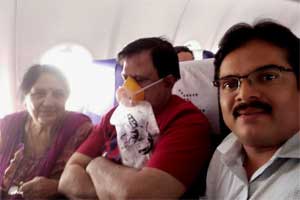 Thank you for your immediate and genuine help. We couldn't have done it without you!- Flight Crew
Bhubaneswar: An Odisha doctor turned up to revive mid-air when a passenger fell seriously unconscious while travelling in Bengaluru-Lucknow flight recently. The Doctor is currently working at  Department of Surgery at SUM Hospital.
Read Also: BRAVO: Delhi- based Doctor Couple save Woman in Respiratory Distress Mid-Air
The case concerns an elderly passenger, travelling in Indigo flight 6E-163 to Lucknow who suddenly developed a violent cough and lost consciousness mid-air in the flight after having a sandwich. On seeing the deteriorating condition, his wife started crying for help. Out of sheer luck, this surgeon from Odisha was travelling on the same flight. He came forward to help the passenger to give fast aid measures and provided cardiopulmonary resuscitation (CPR) on the person. The passenger was then put on oxygen. After few minutes the passenger regained his consciousness to utter relief of his wife and fellow passengers, reported
odishabytes
.
The doctor was recognized as Prof Prakash Kumar Sahoo, head of the Department of Surgery at the Institute of Medical Sciences and SUM Hospital, run by the SOA (Deemed to be University), Bhubaneswar and was on his way to attend a conference when the emergency took place.
The crew members in the flight acknowledged the act and took an sent a thank you note to the doctor where they wrote, "Thank you for your immediate and genuine help. We couldn't have done it without you!"
Read Also: Bravo: Delhi doctor saves life MID-AIR