Approved- 20 New AIIMS, Up-gradation of 73 Medical Colleges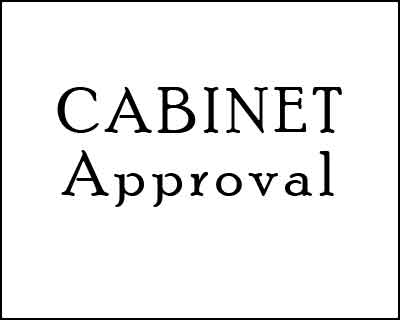 Total 2000 MBBS seats (100 per new AIIMS), 1095 PG Seats ( 15 PG seats per upgraded medical college) expected to be added. 3000 medical posts to be created
New Delhi: In a major boost to the expansion of healthcare infrastructure in the country, the Union Cabinet chaired by PM Narendra Modi on Wednesday approved a plan to set up 20 All India Institute of Medical Sciences (AIIMS) across the country, six of which have already been established, and to upgrade 73 medical colleges.
The decisions are part of the Pradhan Mantri Swasthya Suraksha Yojana (PMSSY), which has been extended by two years till 2020, with a financial outlay of Rs 14,832 crore. Under this scheme, new AIIMS are established and Government medical colleges are upgraded.
The PMSSY, a Central Sector Scheme, aims at correcting the imbalances in the availability of affordable tertiary healthcare facilities in different parts of the country in general and augmenting facilities for quality medical education in the under-served States in particular.
The PMSSY was announced in 2003 with objectives of correcting regional imbalances in the availability of affordable/ reliable tertiary healthcare services and also to augment facilities for quality medical education in the country. PMSSY has two components -


Setting up of AIIMS-like institutions; and


Up-gradation of existing State Government Medical College (GMCs).


Elaborating on the decision, Union Health Minister JP Nadda further stated that setting up new AIIMS in various states will lead to employment generation for nearly 3000 people in various faculty and non-faculty posts in each of the AIIMS. He said that indirect employment generation will take place due to facilities and services like a shopping centre, canteens, etc. coming in the vicinity of new AIIMS. The Union Health Minister added that for each functional AIIMS established under PMSSY, a total of 4089 posts were created for a 960 bedded hospital.  "The same number of posts will be created for a 960 bedded hospital for the new AIIMS that is being established under PMSSY. So far, for new AIIMS at Mangalagiri, Nagpur and Kalyani, a total of 1144 posts have been created with the approval of Ministry of Finance," ShriNadda mentioned.
Highlighting the benefits of the scheme, Shri Nadda said that each


Each new AIIMS will add 100 UG (MBBS) and 60 B.Sc (Nursing) seats, 15-20 Super Specialty Departments and around 750 hospital beds.


each GMC up-gradation project, 8-10 Super Specialty Departments get added on an average and an up-gradation project also gives the benefit of adding of around 15 new PG seats on an average.


As per data of current functional AIIMS, it is expected that each new AIIMS would cater to around 1500 OPD patients/day and around 1000 IPD patients/month


The construction of new AIIMS will be fully funded by the Central government. It will also bear the operations and maintenance expenses of these facilities.
The upgradation programme broadly envisages improving health infrastructure through construction of super specialty blocks, trauma centres and others, according to the statement.
The procurement of medical equipment for existing as well as new facilities will be done on sharing basis by both Central and state governments.