Rare case of Bullet injury and it's embolization to heart: A report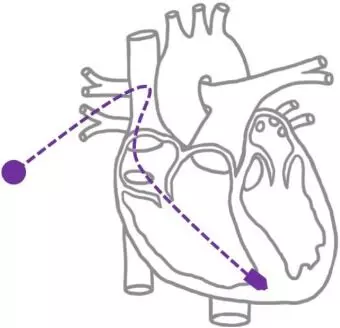 USA: Gunshot wounds (GSWs) to the cardiac region usually result in devastating injuries. A recent case study in the International Journal of Surgery Case Reports, discusses cases of bullet embolization to the heart and the emergence of minimally-invasive approaches for management. The researchers present the case of a 37-year-old hemodynamically stable young male who suffered a Gunshot wound to the right chest.
The man with no significant medical history presented to a level 1 trauma center as a level 1 trauma activation after suffering a single Gunshot wound to the right anterior chest just lateral to the midclavicular line at approximately the level of the fourth thoracic vertebra.
Computed Tomography (CT) scan performed because of his stability, demonstrated a bullet in close proximity to the heart. Sternotomy revealed bullet embolization through the superior vena cava (SVC) to the right ventricle that then embedded in the apical endocardium, obviating safe retrieval.
The bullet had embedded through the endocardium into the deep myocardium, and retrieval would have likely necessitated cardiopulmonary bypass with extensive cardiac dissection.
The decision was made to leave the bullet in place, and the ventriculotomy was repaired and the chest closed. The patient had an uneventful recovery. At a 3-month follow up, the bullet had not changed position on chest x-ray.
"This review of the literature suggests that the initial management of hemodynamically stable patients with suspected intracardiac bullet emboli can be non-operative. The management should include intensive care observation along with transesophageal echocardiography to better-localize the bullet. Considering endovascular approaches with preparation for possible open operative intervention is a valid alternative that carries a higher risk of morbidity and mortality, in comparison to non-operative management," wrote the authors.
Intracardiac bullets can be left in place, with no significant impact -- is the key takeaway from the study.
Nearly 90% of patients with cardiac bullet emboli on initial presentation are hemodynamically stable.Non-operative management of stable patients includes intensive observation and additional imaging to localize the bullet.

"Bullet embolization to the heart: A rare and confounding penetrating cardiac injury case report," is published in the International Journal of Surgery Case Reports.
Source : International Journal of Surgery Case Reports