NOACs better than aspirin for thromboembolic protection after VT ablation, JACC study.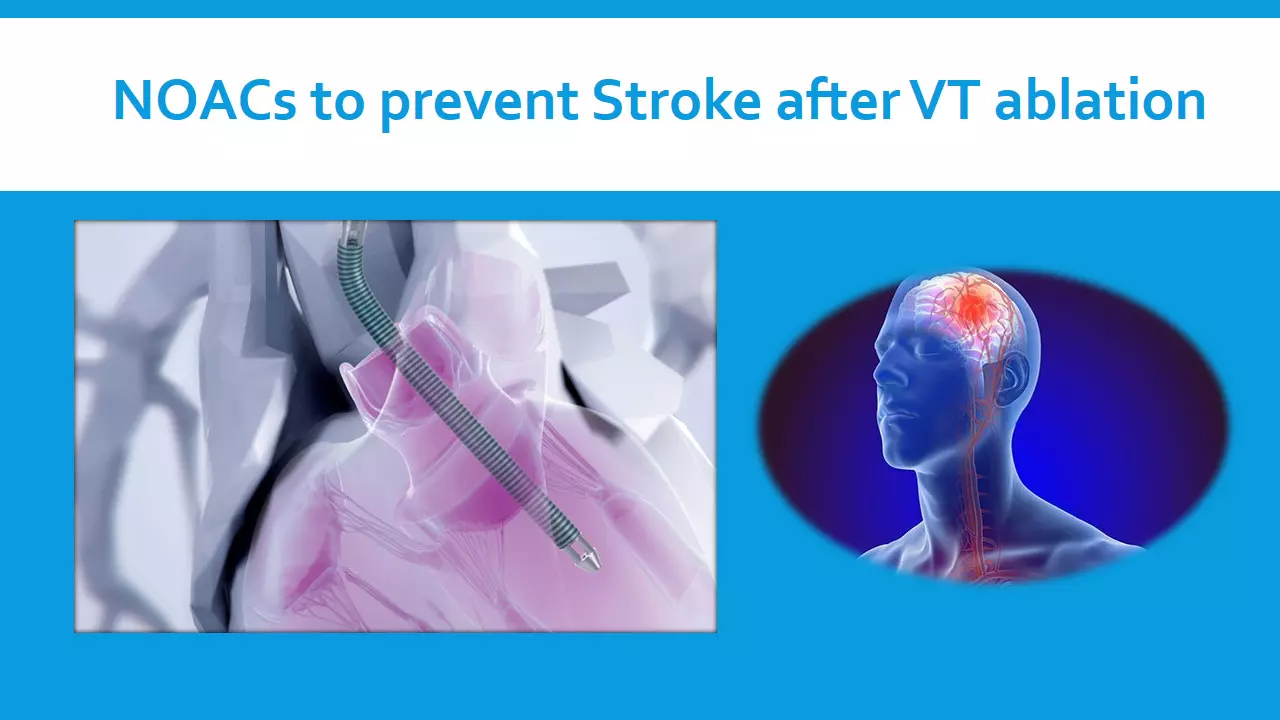 Anticoagulation after ventricular tachycardia (VT) catheter ablation (CA) has been standard of care for more than three decades, yet there are little data beyond consensus and retrospective studies to guide management of anticoagulation post-ablation.
In this issue of JACC EP, Lakkireddy et al, in the STROKE-VT trial have done a first ever prospective analysis of strategies to reduce thromboembolic complications following VT ablation and have shown that NOAC (novel oral anticoagulants) use following endocardial and/or epicardial ablation for LVA-RFA (left ventricular arrhythmia-radiofrequency ablation) is associated with reduced risk of TIA or stroke and asymptomatic MRI-detected cerebrovascular events.

Thromboembolic complications of post-ablation have led to evolution of prudent anticoagulation strategies during and after catheter ablation for other arrhythmias such as atrial fibrillation (AF). But the granularity of AF standard of care has not been reproduced in the VT CA patient population.
The STROKE-VT study is a multicenter, randomized controlled trial that examined the differences in cerebrovascular events between NOAC and aspirin (ASA) use postprocedurally in patients who underwent left ventricular arrhythmia (LVA) ablation (ventricular tachycardia [VT] or premature ventricular contraction [PVC]) using radiofrequency ablation (RFA).
A total of 246 patients scheduled for LVA-RFA were randomized 1:1 postprocedurally to receive NOACs or ASA. Though patients with idiopathic VAs were included, both study groups were enriched with patients with reduced EF.
The study's primary endpoint was the incidence of stroke or transient ischemic attack (TIA) or asymptomatic cerebrovascular events (ACEs) detected by magnetic resonance imaging at 24 hours and 30 days of follow-up.
The secondary endpoints included procedure-related complications (composite of any vascular complication, pericardial complication, heart block, and thromboembolic event, excluding stroke or TIA) and in-hospital mortality. All patients received the study drug 3 hours after hemostasis was achieved, which may be a bit earlier than routine practice, but appears to have been safe.
A statistically significant benefit was seen in the NOAC group with a 0% stroke rate, compared with a 6.5% stroke rate seen in the ASA group. Additionally, the rate of transient ischemic attack was also reduced from 17.9% to 4.9%. Independent predictors of stroke identified by multivariable modeling were ejection fraction, retrograde access to the ventricle (as opposed to trans-septal), and ablation time.
"Of note, the ablation time was longer in the NOAC group which should have biased the result to the null, yet the clinical result was statistically robust", notes Jeffrey R. Winterfield, MD in an accompanying editorial.
Lakkireddy et al also performed brain MRI 24 hours and 30 days postablation to assess for subclinical asymptomatic embolic events (ACE) as has been done in prior AF studies. The key findings include a higher rate of MRI-detected ACE in patients randomized to ASA vs NOAC. Interestingly, in both the ASA and DOAC groups, the ACE rate was decreased at 30 days.
"What remains unanswered is the long-term neurocognitive impact following LVA ablation, which requires better understanding with long-term follow-up. For LVA ablation as a clinically viable option, besides procedure success, procedure safety is of utmost importance", add authors in the discussion.
"With this new trial, the VA field has now emulated its northerly neighbour, the atrium, with the demonstration that NOAC use in a randomized trial can reduce thromboembolic complications following catheter ablation of VAs", adds Winterfield.
The optimal duration of oral anticoagulation with no other indication for continued oral anticoagulant use and long-term neurocognitive impact following left ventricular arrhythmia ablation remains unknown and requires better understanding with long-term follow-up.
Source: JACC EP:
1. DOI: 10.1016/j.jacep.2021.07.010
2. DOI: 10.1016/j.jacep.2021.07.011