Sarcoidosis linked to Risk of Heart Failure, claims study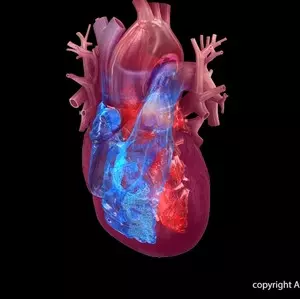 According to a recent study by the national Danish health data Patients with sarcoidosis had elevated long-term risk of adverse cardiac events as compared with controls.

Adelina Yafasova attached to the Copenhagen University Hospital, and co-authors, have published the findings in the Journal of the American College of Cardiology.
Researchers also reported high mortality in people with sarcoidosis and heart failure as compared with people who had heart failure but not sarcoidosis.
Sarcoidosis is a systemic disorder characterized by the aberrant development of granulomas within various organs in the body. The lungs are involved in 90% of patients, and the skin, eyes, and heart are affected in a significant fraction of patients.
Previous studies have reported that the 3 principal manifestations of cardiac sarcoidosis (CS) are conduction abnormalities, ventricular arrhythmias, and heart failure. An estimated 20% to 25% of patients with pulmonary/systemic sarcoidosis have asymptomatic cardiac involvement (clinically silent disease)
The study sample consisted of 11,834 adults diagnosed with sarcoidosis between January 1996 and December 2016. Patients were excluded if they had a history of any other co-morbidity. The median age was about 43 and 54.3% were women. These were matched to 47,336 general population controls and follow-up was conducted for median 8.2 years.
The results highlighted the following facts.
Ø absolute 10-year risks of heart failure were 3.18% (95% CI 2.83%-3.57%) for sarcoidosis patients and 1.72% (95% CI 1.58%-1.86%) for controls.
Ø Risk for composites combining implantable cardioverter-defibrillator (ICD) implantation, ventricular arrhythmias, and cardiac arrest; pacemaker implantation, atrioventricular block, and sinoatrial dysfunction; and atrial fibrillation or flutter also were elevated in patients with sarcoidosis.
Ø A history of sarcoidosis was associated with higher mortality among patients who developed heart failure.
Ø Of 164 heart failure patients with sarcoidosis who died, causes of death included sarcoidosis (9.8%), cardiovascular diseases (35.4%), respiratory disease (14.6%), cancer (18.3%), and other causes (22.0%).
"Future management guidelines for cardiac sarcoidosis should include these data for developing recommendations regarding the role of advanced imaging modalities and biopsy for diagnosis, prognosis, and treatment," authors said.
For detailed reading click on the link: https://www.mdedge.com/cardiology/article/226849/heart-failure/sarcoidosis-may-raise-long-term-risk-heart-failure-and-death
Source : Journal of the American College of Cardiology