TAVR expands its wings to rheumatic AS patients, JACC study.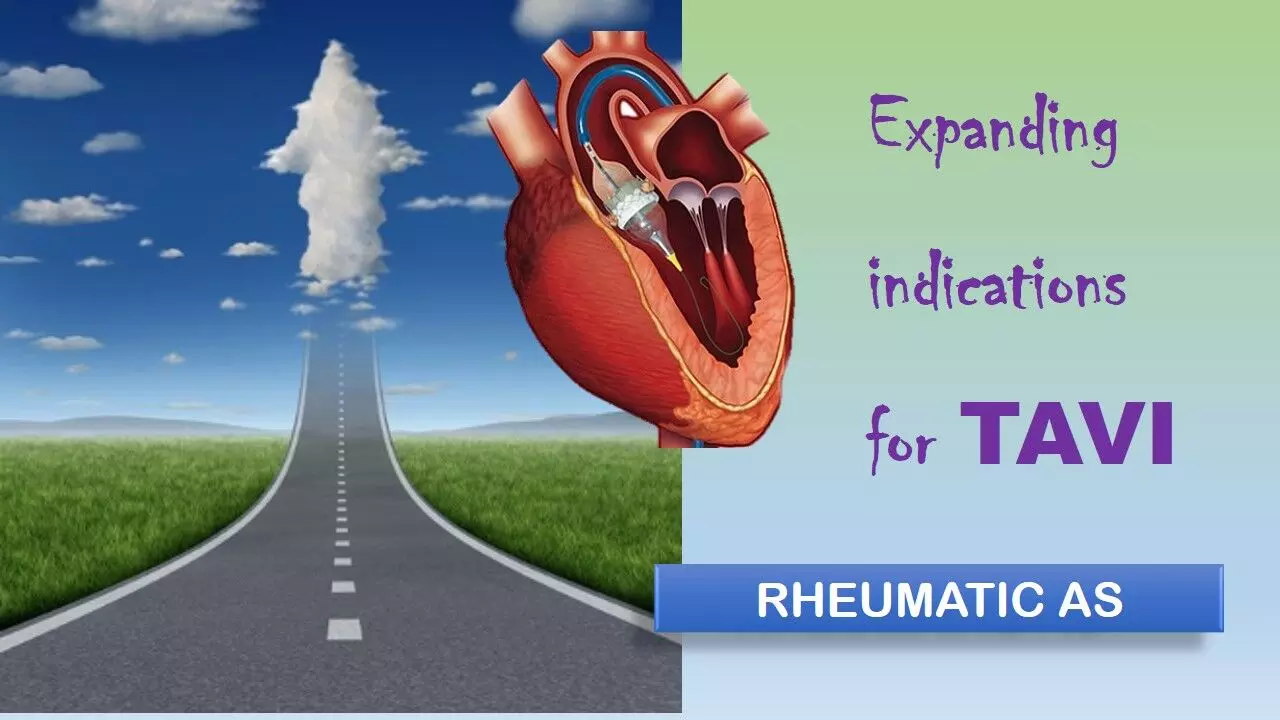 For people who have aortic stenosis (AS) due to rheumatic heart disease (RHD), transcatheter valve implantation may be a "viable and possibly durable option" compared with surgical valve replacement, observational Medicare data suggest. The study published in the April issue of JACC found no difference in all-cause mortality over a median follow-up period of around 1.5 years.
Various factors, including fibrotic rather than calcified leaflets, presence of mixed aortic valve disease and/or multivalvular disease, right ventricular dysfunction, and cardiac structural changes that increase the risk for AF, may complicate successful outcomes of TAVR in rheumatic AS. However, this study shows that TAVR has similar outcomes with regard to mortality and morbidity in this group of patients, who were excluded from the randomized controlled trials.
The authors sought to examine outcomes with TAVR versus surgical aortic valve replacement (SAVR) in patients with rheumatic AS, and versus TAVR in nonrheumatic AS. They identified Medicare beneficiaries who underwent TAVR or SAVR from October 2015 to December 2017, and then identified patients with rheumatic AS using prior validated International Classification of Diseases, Version 10 codes. Overlap propensity score weighting analysis was used to adjust for measured confounders. The primary study outcome was all-cause mortality. Multiple secondary outcomes were also examined.
The final study cohort included 1,159 patients with rheumatic AS who underwent aortic valve replacement (SAVR, n = 554; TAVR, n = 605), and 88,554 patients with nonrheumatic AS who underwent TAVR.
Among the patients with RHD, those who had SAVR tended to be younger than those who had TAVI (mean 73.4 vs 79.4 years), to have fewer comorbidities, and to be less frail. At a median follow-up of 19 months, all-cause mortality was similar between TAVI and SAVR (11.2 vs 7.0 deaths per 100 person-years; adjusted HR 1.53; 95% CI 0.84-2.79). Apart from permanent pacemaker implantation, TAVI was associated with fewer complications than SAVR.
Among the TAVI-treated patients, those who had RHD tended to be younger than those with nonrheumatic AS (mean age 79.4 vs 81.2 years), were less likely to be men (40% vs 53.3%), and tended to have fewer comorbidities. At a median follow-up of 17 months, all-cause mortality did not differ between TAVI patients who did and didn't have RHD (15.2 vs 17.7 deaths per 100 person-years; adjusted HR 0.87; 95% CI 0.68-1.09). There were no differences in procedural complications.
Repeat aortic valve replacement was performed in one of the TAVI-treated patients with rheumatic AS, fewer than 11 SAVR patients with rheumatic AS, and 242 nonrheumatic TAVI patients.
What the new study results show, author Mentias said, is that in select RHD patients being treated, TAVR "was relatively comparable to surgical aortic valve replacement in terms of midterm outcomes." Beyond the equivalent death risk, another noteworthy finding is that none of the TAVI-treated RHD patients required reintervention.
Mentias et al acknowledge there have been concerns in the past about performing TAVI in rheumatic AS because of the lack of calcification, used for anchoring, in the native valve, which could potentially lead to prosthetic valve migration or paravalvular leak. New-generation TAVR devices have design elements that could reduce the likelihood of these problems, however. "Our study included a contemporary cohort of TAVR patients; hence, it reflects outcomes with newer generations of TAVR valves."
Also, many patients with RHD have aortic regurgitation, either on its own or in combination with AS. For these patients, the lack of calcification may enable "safer deployment with appropriate oversizing to reduce the risk of residual paravalvular leakage without increased risk of annular injury/rupture as compared with calcific AS," the researchers say, "especially in patients with concomitant/pure aortic regurgitation and dilated aortic root."
While the authors suggest that TAVR may be a more feasible option than SAVR for treating rheumatic AS in countries where the condition is still highly prevalent, this should be balanced by the current reality that TAVR still requires specialized facilities and operators, the devices are very expensive, and a strategy targeting treatment of Streptococcal infection with antibiotics may be more cost-effective. The study results are extremely important from Indian perspective as rheumatic heart disease continues to be the most common valvular heart disease and surgical turn-downs are not infrequent even in a tertiary care setting.
Source: JACC Transcatheter Versus Surgical Aortic Valve Replacement in Patients With Rheumatic Aortic Stenosis. J Am Coll Cardiol 2021;77:1703-1713