Managing Difficult to Treat Hypertension with Newer ARBs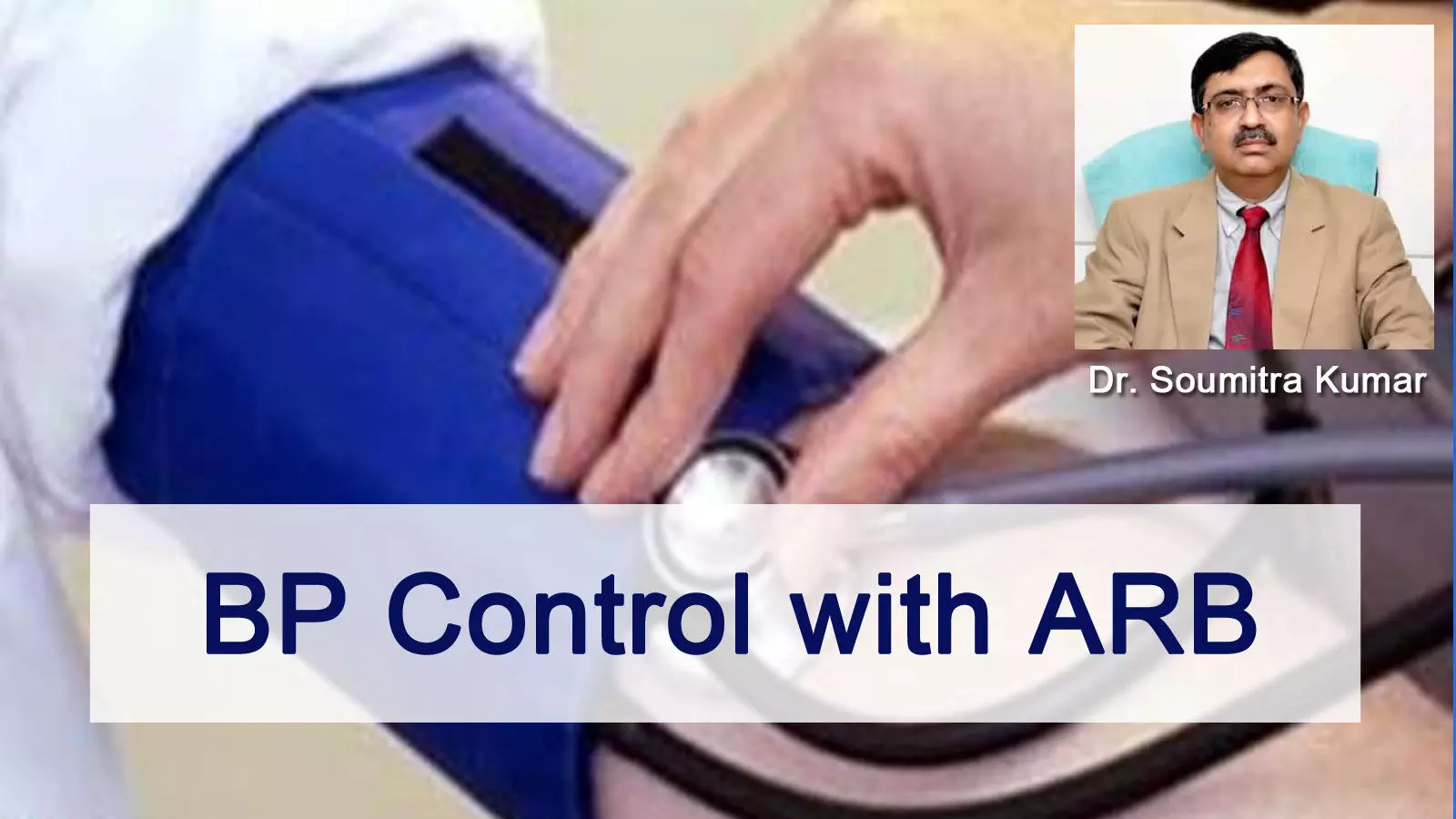 A considerable number of patients with hypertension remain resistant to treatment despite the many therapeutic options available today for hypertension management.
Hypertension affects almost one in four adults worldwide and is an important cause of cardiovascular morbidity and mortality. Although there is a range of therapeutic options available for hypertension treatment, resistant or difficult-to-control hypertension is becoming an increasing burden. A sizable number of patients still fall under the difficult to treat category of hypertension and are resistant to treatment. If we see the statistics, up to 20% of all patients with hypertension are likely to become resistant to treatment.
When treatment strategy is defined for the management of difficult to treat hypertension, focuses are given on several mechanisms. The strategy mainly includes therapeutic lifestyle changes, neutralizing underlining causes like withdrawing any medications or substances which may contribute to elevated blood pressure, treatment of secondary causes such as obstructive sleep apnea. Focus is given on the selection of therapeutic modality in such a way that patients will adhere to the therapy for longer duration without discontinuation. The aim of the therapeutic strategy is set to achieve target blood pressure. Patients with resistant hypertension require more than 2 drugs. A Three-drug regimen composed of a thiazide diuretic, a calcium-channel blocker, an ARB or an ACE inhibitor is recommended. Chlorthalidone is preferred diuretic over hydrochlorothiazide, specifically in patients with resistant hypertension.
The use of ARB in difficult to treat hypertensive patients present some advantages like prompt BP reduction in the elderly as well, better CV outcomes, reduction in the incidence of heart failure, and strokes. ARBs prevent atrial fibrillation and new-onset diabetes as well as provide reno-protection, specifically in diabetic hypertensive patients. ARBs also offer protection against major cardiovascular outcomes of hypertension.
There were seven ARBs in the market until the eighth addition was done in the form of azilsartan medoxomil in 2011. Azilsartan is the most potent ARB on the list. 5 Very tight binding of Azilsartan to AT1 receptor and slow dissociation from it provides prolonged efficacy throughout 24 hr. An additional mechanism of vasodilatory action and the postulated effect of increasing renal sodium excretion might also contribute to added BP reduction effect. 6 Azilsartan also offers further SBP Reduction over other ARBs.
White and co-workers carried out a pooled analysis of randomized placebo-controlled trials comparing the effects of Azilsartan at the dose of 40 and 80 mg, Olmesartan 40 mg and Valsartan 320 mg on changes in ambulatory and clinic BP among patients with hypertension & prediabetes or type 2 diabetes mellitus (T2DM). Data from a total of 3821 patients were analysed. The analysis showed that Azilsartan 80 mg once daily lowers SBP by a greater magnitude than maximally approved doses of olmesartan and valsartan in patients with prediabetes and T2DM, we can say in the patients most susceptible to develop resistant hypertension.
Azilsartan, in combination with diuretics, has shown a double-digit reduction in SPB in both non-diabetic as well as diabetic hypertensive patients. When the Azilsartan/chlorthalidone combination was compared with azilsartan/hydrochlorothiazide combination, the Azilsartan/chlorthalidone showed a more significant reduction compared to that of other (31.5 mmHg vs. 29.5 mmHg, P < 0.001) along with better safety. Azilsartan/chlorthalidone could be a therapy of choice in patients for whom combination therapy is required where blood pressure reduction of >20 mmHg systolic or >10 mmHg diastolic above goal is targeted.
In addition to the primary effect, it has been shown to have pleiotropic effects beyond receptor blockade and simple BP control. Reports have highlighted its potential to lessen cardiac hypertrophy, cardiac fibrosis, and insulin resistance. Azilsartan is also reported to improve renal-protection as well as atherosclerotic plaque stabilization.
Azilsartan has also shown benefit in hypertensive patients with salt sensitivity, which forms a major pool of Indian hypertensive patients. It became difficult for this set of hypertensive patients to restriction of salt in diet owing to their eating habits; hence Azilsartan provides benefits in these patients without the need for salt restriction. 12 Azilsartan improves salt sensitivity by selectively reducing renal proximal tubule Na+/H+ exchange, possibly by decreasing NHE3 expression via ubiquitin-proteasomal degradation.
As the research on Azilsartan is advancing, new properties of Azilsartan are being discovered, one such property of Azilsartan is its effect on the ACE2/ANG-(1–7)/Mas axis. Azilsartan is associated with increased circulating angiotensin-(1–7) levels. Further research on this aspect will help to further explore its benefits.
Azilsartan can be used in every stage of hypertension, as monotherapy or as combination therapy with chlorthalidone or CCBs. Azilsartan has shown beneficial effects in patients with any degree of renal impairment.
Use of Azilsartan is growing in daily practice as a choice of ARB due to superior efficiency and simple dosing, excellent tolerability, and patient acceptance and availability of single-pill combination with chlorthalidone. 17 The combination of Azilsartan–chlorthalidone is the first fixed-dose combination to combine an ARB with the long-acting diuretic, chlorthalidone.
The increased use of Azilsartan in a real-world setting has led to increased confidence in the efficacy of the molecule, which has made many clinicians believe that the use of Azilsartan can make it possible to control BP with one less drug.
Azilsartan/chlorthalidone combination is an essential part of reaching BP targets in difficult to treat patients.
The author, Dr Soumitra Kumar, MD (Medicine), DM (Cardiology), is an established Cardiologist in Kolkata, West Bengal and is currently the Professor & HOD, Dept. of Cardiology at Vivekananda Institute of Medical Sciences, Kolkata
The above article has been published by Medical Dialogues under the MD Brand Connect Initiative. For More Details on Azilsartan, click here
References
1. Papademetriou V, Tsioufis C, Gradman A, Punzi H. Difficult-to-treat or resistant hypertension: etiology, pathophysiology, and innovative therapies. International journal of hypertension. 2011 Jun 1;2011.
2. Frank J, Sommerfeld D. Clinical approach in treatment of resistant hypertension. Integrated blood pressure control. 2009;2:9.
3. Nguyen Q, Dominguez J, Nguyen L, Gullapalli N. Hypertension management: an update. American health & drug benefits. 2010 Jan;3(1):47.
4. Dézsi CA. The different therapeutic choices with ARBs. Which one to give? When? Why?. American Journal of Cardiovascular Drugs. 2016 Aug 1;16(4):255-66.
5. Georgiopoulos G, Katsi V, Oikonomou D, Vamvakou G, Koutli E, Laina A, Tsioufis C, Nihoyannopoulos P, Tousoulis D. Azilsartan as a potent antihypertensive drug with possible pleiotropic cardiometabolic effects: a review study. Frontiers in pharmacology. 2016 Aug 3;7:235.
6. Kobori H, Mori H, Masaki T, Nishiyama A. Angiotensin II blockade and renal protection. Current pharmaceutical design. 2013 May 1;19(17):3033-42.
7. Perry CM. Azilsartan medoxomil. Clinical drug investigation. 2012 Sep 1;32(9):621-39.
8. White WB, Cuadra RH, Lloyd E, Bakris GL, Kupfer S. Effects of azilsartan medoxomil compared with olmesartan and valsartan on ambulatory and clinic blood pressure in patients with type 2 diabetes and prediabetes. Journal of hypertension. 2016 Apr;34(4):788.
9. Bakris GL, Sica D, White WB, Cushman WC, Weber MA, Handley A, Song E, Kupfer S. Antihypertensive efficacy of hydrochlorothiazide vs chlorthalidone combined with azilsartan medoxomil. The American journal of medicine. 2012 Dec 1;125(12):1229-e1.
10. Cheng JW. Azilsartan/chlorthalidone combination therapy for blood pressure control. Integrated blood pressure control. 2013;6:39.
11. Dargad RR, Parekh JD, Dargad RR, Kukrety S. Azilsartan: Novel angiotensin receptor blocker. J Assoc Physicians India. 2016 Mar;64(3):96-8.
12. Isobe‐Sasaki Y, Fukuda M, Ogiyama Y, Sato R, Miura T, Fuwa D, Mizuno M, Matsuoka T, Shibata H, Ito H, Ono M. Sodium balance, circadian BP rhythm, heart rate variability, and intrarenal renin–angiotensin–aldosterone and dopaminergic systems in acute phase of ARB therapy. Physiological Reports. 2017 Jun;5(11):e13309.
13. Mishra S, Ingole S, Jain R. Salt sensitivity and its implication in clinical practice. Indian heart journal. 2018 Jul 1;70(4):556-64.
14. Hatanaka M, Kaimori JY, Yamamoto S, Matsui I, Hamano T, Takabatake Y, Ecelbarger CM, Takahara S, Isaka Y, Rakugi H. Azilsartan improves salt sensitivity by modulating the proximal tubular Na+-H+ exchanger-3 in mice. PLoS One. 2016 Jan 25;11(1):e0147786.
15. Carroll MA, Kang Y, Chander PN, Stier Jr CT. Azilsartan is associated with increased circulating angiotensin-(1–7) levels and reduced renovascular 20-HETE levels. American Journal of Hypertension. 2015 May 1;28(5):664-71.
16. Angeloni E. Azilsartan medoxomil in the management of hypertension: an evidence- based review of its place in therapy. Core evidence. 2016;11:1.
17. Shuster JE, Bleske BE, Dorsch MP. Clinical utility of azilsartan–chlorthalidone fixed combination in the management of hypertension. Vascular health and risk management. 2012;8:381.
18. Shuster JE, Bleske BE, Dorsch MP. Clinical utility of azilsartan–chlorthalidone fixed combination in the management of hypertension. Vascular health and risk management. 2012;8:381.