Chandigarh: Rs 1000 CHALLAN for Honking near PGIMER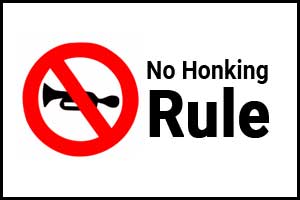 "Everybody knows to honk near schools, colleges and hospitals is prohibited, but no motorists follow the guidelines."
Chandigarh: Taking a stern note of the unnecessary honking episodes within the region of hospital premises, the UT traffic police department has recently announced to issue challans of Rs 1,000 for the offence.
After holding awareness drives in and around hospitals for 15 days, the authorities took the decision during a meeting, held at the police headquarters on July 2.
Confirming the decision to The Times Of India, Yashpal Vinayak, DSP (Traffic), UT, "Police would issue challans for honking at Government Multi-specialty Hospital, Sector 16, Government Medical College and Hospital, Sector 32, and Postgraduate Institute of Medical Education and Research (PGIMER) after 15 days."
"Everybody knows to honk near schools, colleges and hospitals is prohibited, but no motorists follow the guidelines," DSP Vinayak added.
When asked why the rule has been implemented firstly at the hospitals, the concerned officials replied, "As a large number of people visit hospitals, issuing challans here will spread the message of faster across the Tricity."
Police would make the residents aware of the no-honking rule through social media, newspapers and boards. School, colleges and university would also be covered. Traffic marshals and cops would be deployed at hospitals to check if anyone violates the rule. Warning boards regarding the fine have already been put at the entrance of the city.
However, even after the rule has been declared since few days, frequent cases of honking are reported every day. More and more people are seen honking near emergency wards, trauma centres and OPDs of various city-based hospitals.
"People honk, but not all the time. We have signs reading 'No Horn Please' at almost all parking places around the hospital premises. This helps in spreading awareness. It has been observed that patients that come from other cities, who are not aware of the rules, are seen honking the most," Randhir Singh, a traffic cop told TOI.
In contrast, even ambulance drivers are seen honking a few times. "We are required to act swiftly. If we won't honk, people and other vehicle operators won't give us the way," an ambulance driver justified.