Soon, Violent Acts against doctors to be made a non-bailable offence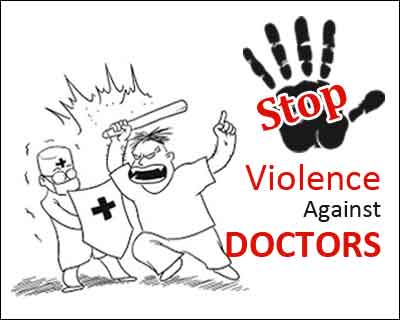 Violent Acts against doctors may be made a non-bailable offence under the proposed Central Act. 
New Delhi: Taking cognisance of rising instances of violence against medical practitioners, the Centre is soon going to come out with a pan- India Act to address this growing issue.
In the past few years, violence against medical practitioners on various issues including cost of treatment, quality of treatment, delay in attending to patients, etc has seen a tremendous rise. Estimates given by the Indian Medical Association showed that 75% of medical practitioners in the country had witnessed some form of violence during their course of practice.
In 2015, following large number of complaints,  the central government had formed an inter-ministerial committee to look into the matter of rising cases of violence against medical professionals. TOI reports that the panel has now suggested that the health ministry should bring about a central act to address the issue. The proposed law may have stringent provisions like making any act of violence against a doctor, medical professional or hospital authority a non-bailable offence.
There are many laws in place dealing with the issue of violence against medical personnels as well as protection of hospital property and personnel, however, there are state specific acts and indeed, lack in implementation as is evident with the rising instances of doctors being beaten up. TOI adds that currently around 18 states across the country already have such laws in place. However, the committee formed has suggested that there be a central act, applicable pan India that is in line with the various state laws.