Comments Invited: Govt Publishes Draft Clinical Establishment Rules for Allopathy and AYUSH Clinics and Hospitals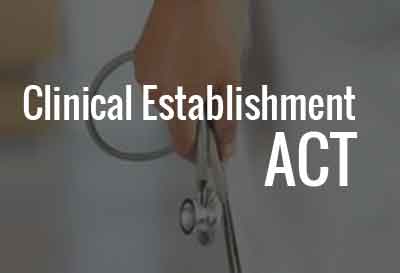 New Delhi: Through a recent notification, the Union Ministry of Health and Family Welfare has put in the public domains the draft of Clinical Establishments (Central Government) Rules, 2012, for allopathy and AYUSH institutions, inviting suggestions and comments on the same.
The said draft rules will be taken into consideration on or after the expiry of a period of forty-five days from the date on which copies of the Gazette of lndia containing these draft rules are made available to the public, the notification added
Objections and suggestions if any, may be addressed to Dr Anil Kumar Addl. DDG, Dte. GHS, Ministry of Health and Family Welfare Room No 560-A Nirman Bhawan, New Delhi- 110011 or sent on email to help.ceact2o1o@nic.in within 45 days from the issue of the notice which is 17th July, 2019
Objections and suggestions which may be received from any person within the period specified above will be considered by the Central Government, the notification further added
With these rules, the Union Health Ministry has proposed a set of "minimum standards of facilities and services" that has to be adhered to by clinical establishments offering allopathy and AYUSH mode of treatments for obtaining registration.
According to the "minimum standards" proposed in the amendments for the Clinical Establishment (Central Government) Rules, 2019, health facilities not complying with prescribed norms in terms of infrastructure, manpower, equipment, drugs, support service and record registration will not be granted registration.
Clinical Establishment (Registration and Regulation) Act, 2010, makes registration a must for running a clinical establishment.
"At present, minimum standards are available only for medical diagnostic labs which were notified in May 21, 2018. The proposed amendments are aimed at bringing an uniformity in standard of healthcare services provided by several establishments," an official source said.
According to the proposed standards, the physical facility shall be developed and maintained to provide safe and secure environment for patients, their families, staff and visitors and should be situated in a place having clean surroundings and shall comply with local by-laws in force, if any, from time to time.
There has to be a minimum space requirement for carrying out basic functions of the facility as prescribed in the rules.
"The clinic facility shall be well illuminated, ventilated and clean with adequate water supply. It shall have a prominent board or signage displaying the name of the clinic in local language at the gate or on the building of the clinic," the draft amendments stated.
Besides, the name of the doctor with registration number, fee structure of various doctors or specialists, timings of clinics and services provided within the facility should be well displayed in signages in language understood by the local public in the area.
Under the category of Human Resource, the proposed standards state that the general practitioner or specialist doctor or super-specialist doctors as per the scope of the clinic or polyclinic shall be registered with State or Central Medical Council of India.
"The services provided by the medical professionals should be in consonance with their qualification, training and registration. In a clinic or polyclinic, minimum one support staff must be available to meet the care treatment and service needs of the patient.
"However number may depend upon the workload and scope of the service being provided by the clinical establishment," the draft notification read.
These set of common minimum standards framed are applicable to a single practitioner or more than one doctor clinic manned by a General physician or specialist doctor or super specialist or a group of doctors who are themselves providing patient care services like dispensing of medicines, Injection and dressing.
The Health ministry from time to time has been writing to States and UTs to implement the Act citing alleged malpractices including exorbitant charges, deficiency in services, not following standard treatment protocols, etc in health facilities, resulting not only in compromised patient safety but also concerns about transparency and accountability in healthcare costs.
The clinical establishments act was been enacted by the Centre to provide for registration and regulation of all clinical establishments in the country with a view to prescribe minimum standards of facilities and services provided by them.
The act is applicable to all types (both therapeutic and diagnostic types) of clinical establishments in the public and private sectors.
Till now, eleven states including Arunachal Pradesh, Himachal Pradesh, Rajasthan, Jharkhand  Mizoram, UP and Uttarakhand have adopted the act but many of them are yet to implement it.
Also read:- Fake CPS degree scam : Another 50 doctors get Maharashtra Medical Council show cause notice
The Rules will be valid on both Allopathy and AYUSH organisations. Following organisations will be covered under the Rulles
1. Clinic or Polyclinic: only Consultation, With Dispensary, With Diagnostic Support and With Observation facility
2. Mobile Clinic: Only Consultation' With Procedures and Dental Mobile
3. Hospitals: Level 1 to 3
4. Health Check-up Centre
5. Dental Lab
6. Physiotherapy
7. Dietetics
8. integrated Counselling Centre
Minimum standards of Specilicspecialityisuperspecialityclinicaldepartments/ establishments
1 Anaesthesiology
2. a. Paediatrics (Hospital)
b Paediatrics (Clinic)
3. Burn Care Facility (HosPital)
4. a. Plastic Surgery (Hospital)
b' Plastic Surgery (Clinic)
5. a. Cardiology (Hospital)
b Cardiology Services (Clinic)
6. Dental Set up a. Stand Alone b Hospital Setup
7. a. Dermatology (Hospital)
b Dermatology (Clinic)
c STD Clinic
8. a. Gastroenterology (Hospital)
b. Gastroenterology (Clinic)
9. a. General Surgery (Hospital)
b. General Surgery(Clinic)
10. a. Neurology (Hospital)
b Neurology (clinic)
11. a. Neurosurgery (Hospital)
b Neurosurgery (Clinic)
12.a.Gynae and Obstetrics lndoor services (Hospital)
b. Gynae and  lVF centre /clinic (ICMR Norm)
13. a. Orthopaedic (Hospital) b Orthopaedic Services (Clinic)
14,a.otorhinolaryngology(Hospital)
b, otorhinolaryngology(clinic)
c, Deaf and Dumb Clinic
15. a. Psychiatry Sevices (Hospital)
b Psychiatry Services (Clinic)
c.Deaddiction Centre
16. a. Ophthalmology (Hospital)
b. Ophthalmology (Clinic)
c. Optometrist Services
17. a. Urology (Hospital)
b Urology Services (Clinic)
18. Dialysis Centre - merged with Nephrology
19. a. CTVS (Hospital) b CTVS (clinic)
20. Radiotherapy
21. Medical Diagnostic Laboratories
22. a. lmaging Centers - X-Ray clinic / Cathlab / DSA / OPG and Dental /DE)(A Scan
b. lmaging centers - Sonography (color Doppler) clinic
c. lmaging Centers - CT Scan Center / PET CT Scan
d. lmaging Centers - MRI
23. a. Rheumatology b Rheumatology Clinic /Polyclinic
24. a. Pulmonology b Pulmonology clinic
25. a. Medical Oncology /Clinical Haematology b Medical Oncology /Clinical HaematologY Clinic /PolYclinic
26. a. Gynae Oncology b Gynae Oncology clinid Polyclinic
27. a. Surgical Oncology b Surgical Oncology Clinic /Polyclinic
28. a. Neonatology Clinic b' Neonatology
29. a. Paediatric Surgery b Paediatric Surgery Clinic Polyclinic
30. Palliative Care
31. Gl Surgery a. Hospital b' Clinic
32. Endocrinology a Hospital b' Clinic
33. PMR clinic
34. Nephrology a. Hospital b' Clinic
35. Medicine and geriatrics a Hospital b Clinic'
Also read:-HC Contempt notices to Centre, AIIMS Delhi for For Non-Payment Of Cost of Rs 25,000
AYUSH- (all 7 systems, namely Ayurveda, Unani, Siddha, homoeopathy, yoga, naturopathy and sowa rigpa) clinical establishments.