Criminal Record: Jodhpur Doctor confesses to performing 5000 sex determination tests in 7 years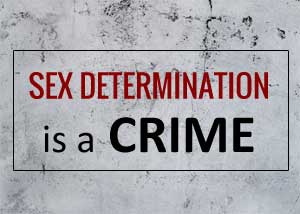 Jodhpur:  With criminal records of conducting 5,000 sex determination, a government doctor has been declared as a 'History-Sheeter' after being arrested fourth time for the same crime.
The accused doctor has been recognized as 41 year-old, Mohammed Imtiyaz Rangrez. -As per recent media reports, during interrogation after the fourth arrest, the accused doctor confessed that he had conducted the crime over and over again, every time after coming out of the jail. He disclosed that he had performed around 5,000 sex determinations in the time span of seven years.
Most recently the doctor was arrested on September 9, 2018 after being caught while conducting a sex-determination test at a house in Mahamandir area.
Before this, the Pre-Conception and Pre-Natal Diagnostic Techniques (PCPNDT) cell arrested the accused doctor on January 5, 2018 while conducting a test of a pregnant woman in a moving vehicle with the help of one of his colleagues.
Prior to that, he was arrested conducting the sex determination was on May 21, 2017, at his middleman's house.
On October 7, 2016, when he was caught for the first time red-handed when deputed as block CMHO at Balesar community health centre. He was suspended after being sent to judicial custody. He was carrying out this crime at his assistant's house.
Three times after coming out of the jail, the doctor would restart the illegal sex determination fearlessly. The Local police has now declared History-sheeter for his repeated crimes
Targeting on the actions taken by the government against the doctor, a social activist Rajan Choudhary told the HT, that "Announcing Dr Imitiaz as a history-sheeter by Jodhpur DCP (East) Kapoor is a welcome step. It has been the government's negligence that Dr Imitiaz has not been terminated from his services and even his medical licence has not been cancelled."
"Although the child sex ratio has improved, but still a long way to go, as many people are still involved in sex determination in the state," activist Choudhary further added.
Read Also: South Delhi Radiologist arrested by PCPNDT Cell for running sex determination racket