10% of anaphylaxis Patients require Multiple Dose of Epinephrine, says study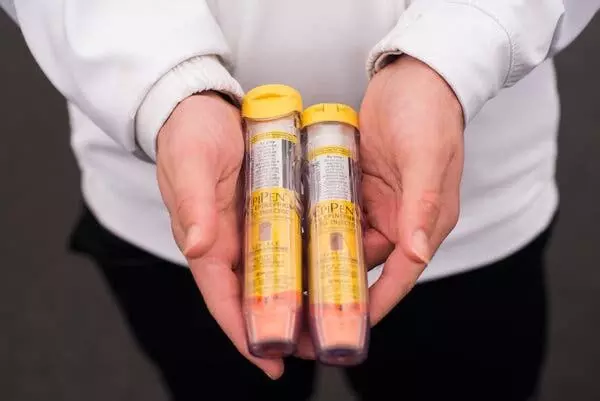 Epinephrine is an established first-line treatment for anaphylaxis. In a recent study, researchers have reported that more than one dose of epinephrine is used for 1 in 10 anaphylactic reactions. The study findings were published in The Journal of Allergy and Clinical Immunology on April 13, 2021.

National and international regulatory agencies recommend that individuals at risk of anaphylaxis carry at least 2 epinephrine autoinjectors (EAIs) at all times. This is in contrast to guidelines from some specialist societies, which make this recommendation for only selected "at-risk" patients. However, the proportion of anaphylaxis reactions that are treated with multiple doses of epinephrine has not been systematically evaluated. Therefore, Dr Paul J. Turner and his team conducted a systematic review and meta-analysis of published studies reporting epinephrine treatment for anaphylaxis in which data relating to the number of doses administered were available.
In this analysis, the researchers searched the Medline, Embase, and Cochrane databases for relevant studies reporting at least 10 anaphylaxis events (due to food or venom) from 1946 until January 2020. They included a total of 86 studies (36,557 anaphylaxis events). They extracted data in duplicate for the meta-analysis and assessed the risk of bias as low in 50 studies.
Key findings of the study were:
Among 86 studies, 20 of the studies [23%] were prospective studies; 64 [74%] reported reactions in the community, and 22 [26%] included food challenge data.
Upon analysis, the researchers found that 7.7% of anaphylaxis events from any cause were treated with multiple doses of epinephrine.
They noted that subsequent doses of epinephrine were administered only for epinephrine-treated reactions.
They also noted that 11.1% of food-induced reactions and 17.1% of venom-induced reactions were treated with at least 1 epinephrine dose.
Upon meta-analysis, they noted moderate to high heterogeneity but at sensitivity analysis, it was not affected by study design or anaphylaxis definition.
The authors concluded, "Around 10% of patients receiving epinephrine for anaphylaxis have a suboptimal response to a single dose of epinephrine, as assessed by a health care professional. These data are important in informing guidance on the provision of EAI for patients at risk of anaphylaxis in the community."
For further information:
DOI:https://doi.org/10.1016/j.jaci.2021.03.042
Article Source :
The Journal of Allergy and Clinical Immunology