Delhi: Superspeciality wing of RML Hospital hits a roadblock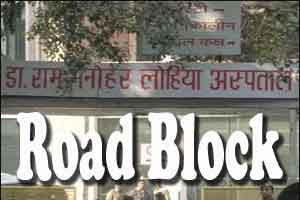 Delhi: A superspeciality wing of RML Hospital was to be constituted to treat more than 3000 patients after a three-acre land adjacent to the existing hospital complex

However, there are emerging reports which suggest that this land will now be utilised for making staff quarters for the Presidential Staff. With this, the land allotted with the purpose to build super-speciality block for RML Hospital is now not a part of its expansion.

Instead, the hospital is reported to have been allotted only a portion, measuring to 1.7 acre of land for the superspeciality wing, which in turn, means a massive space crunch.

Speaking to Medical Dialogues Team, Dr Sood elaborated, " For the past 40 years, the land belonged to RML Hospital and was occupied by slum dwellers. It took us a long time to get free the land from slum-dwellers, who had encroached upon the area. When we did get hold of the land, people from President's House said that the land belonged to them. They even constructed a wall blocking the approach to the main  road and have started the construction of the new residential block for the presidential staff. After negotiating with them, we could only get 1.7 acre of land which is basically landlocked," Dr Rajeev Sood, chairman of the RML hospital project

Officials have further implied that that the hospital has now completely reworked the construction plan. From an 8-storey building with a three-level basement, it will now be a 16-storey building.  Dr Sood further confirmed that the revised plan has been submitted now.

A re-development plan, with an aim to change the face of the hospital to turn into a modern and upgraded version has been under consideration for some time. Few of the details of the plan include a 2500-bed hospital by 2025, at an estimated cost of Rs 790 crore. This hospital will include a a 450-bed super speciality wing, a maternity and child unit and a multi-level parking.

Not only the hospital, but even patients are suffering. Due to lack of proper facility, patients are being referred to other hospitals for super-speciality surgeries. "We have no other option. Until the work for the superspeciality wing is completed, we cannot address issues faced by all the patients. We have to refer them to other hospitals," another senior doctor from the hospital said.

" To add to our misery, right next to the emergency wing, roughly around 0.75 acres of land has been allotted to an NGO, which is further renting the land for private parties. It seems that public welfare is taking a backseat to the residential needs of the presidential employees, and even that of an NGO, both of which can be easily shifted somewhere else and the land can be used for helping poor patients," Dr Sood added.