New Delhi: Cygnus Hospital launches two-day ECG/ECHO Certificate course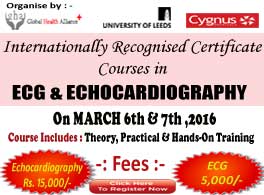 New Delhi : University of Leeds, UK and Global Health Alliance in association with Cygnus Hospitals if offering a 2 day internationally recognised certificate course in Echocardiography and ECG.
The Certificate Courses will take place on the 6th and the 7th of March, 2016 at Cygnus Hospital, Rama Vihar New Delhi. The courses will see eminent faculties from the University of Leeds coming and giving lectures, discussing cases as well as providing hands-on-training ( on Echocardiography) to the participants. The certificates for the said courses will be issued by University of Leeds, UK.
The ECG course is aimed at healthcare professionals who are involved with the performing and /or interpreting ECG's. This ECG course will provide the basic skills to understand and interpret basic ECG rhythms and arrhythmias, plus, provide you with the information to correctly perform an ECG on an adult.
The Echocardiography course is aimed at understanding the importance of physics and instrumentation in echocardiography; understanding the systematic approach for acquiring echocardiographic images using 2D, Doppler, Color Doppler and Tissue Doppler a standard examination; and understanding the minimum dataset for a standard transthoracic echocardiogram, in addition to practical sessions.
Each afternoon will involve interactive and small group sessions to support the understanding and learning. This will be achieved via hands on experience and practical examples of ECG's for interpretation. All supported by qualified ECG faculty from the University of Leeds.
Consultants, Specialists, Residents, Nurses and Paramedical staffs will be benefitted from this opportunity to get an internationally recognized certificate issued by the University of Leeds.
Dr. Shuchin Bajaj, Director, Cygnus Hospitals said that
"We are very pleased to have University of Leeds and Global Health Alliance on board with us to conduct this program to enhance the competence of all the consultants, specialists, residents, nurses and paramedical staffs. University of Leeds expertise in training delivery is exceptional and we are sure that both the courses will enrich all the stakeholders with the most current, evidence-based knowledge to support and enhance clinical practice and optimize patient outcomes".
The fee structure of the course is Rs 5000 for the ECG Course and Rs 15000 for the ECHO course respectively. Discounts are available for registering through medical dialogues
For details and registrations, click on the following link
http://www.medicaldialogues.in/cygnus-workshop/