Lack of recruitment since 2008: Unemployed dental surgeons sell vegetables to meet ends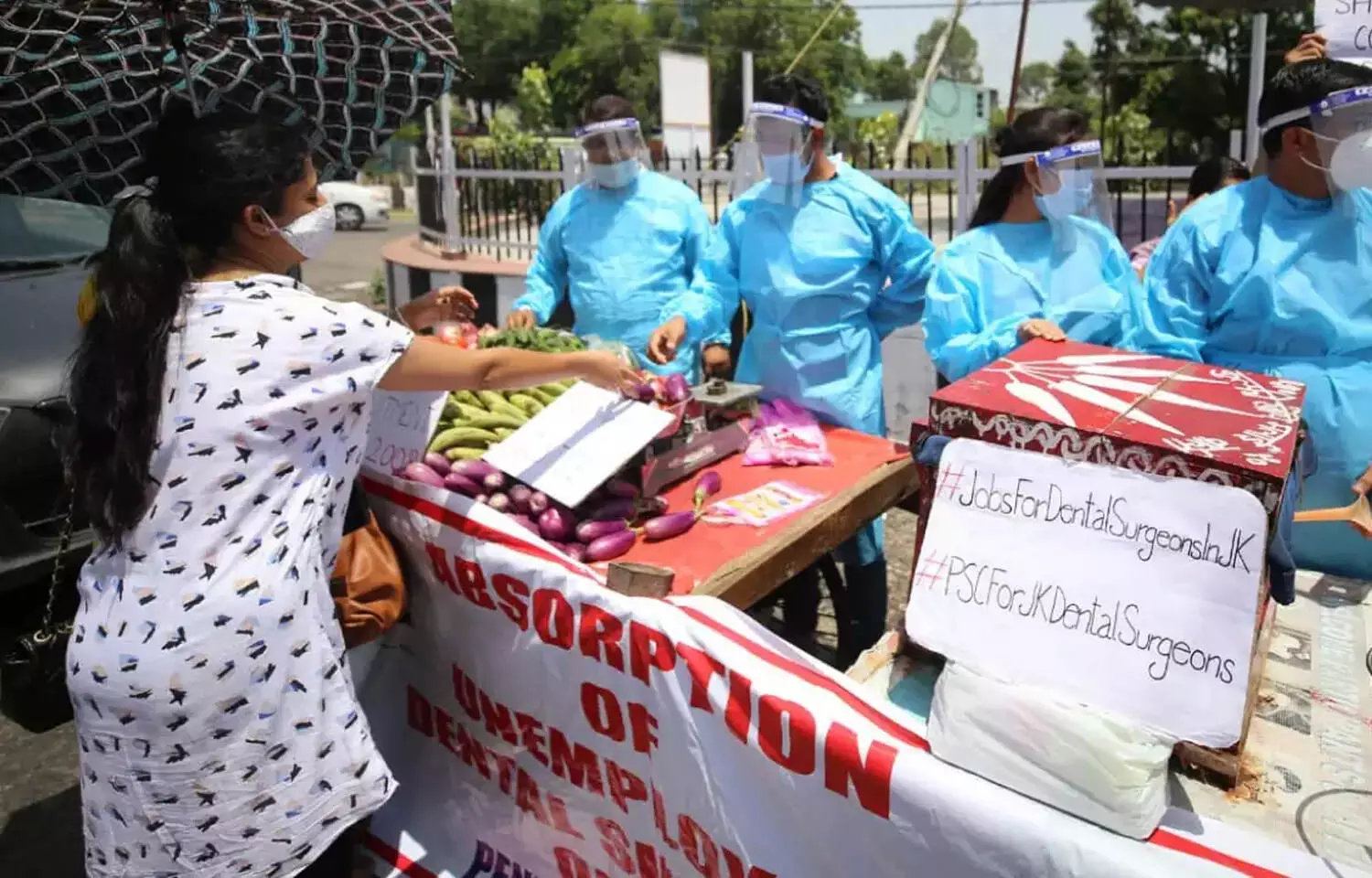 Jammu: In a unique protest against lack of recruitment for the past 12 years, unemployed dental surgeons on Tuesday sold vegetables and ice cream asserting that they are left with no other option to meet their daily needs.

Resenting that they have been demanding their absorption, one of the protesting dental surgeon said, "Since 2008, the J-K Public Service Commission (JKPSC) has issued no notification to recruit dental surgeons."

As per a recent UNI report, he said that the surgeons have been forced to see this day by the administration, adding, "the government claims that Rs 40 crore budget is needed to absorb the doctors in the hospitals."

"If the government cannot accommodate all the doctors in one go, let it be in a phased manner based upon the year in which they did professional degrees," he expressed. But, unless the recruitment is not initiated, how will they (government) be able to recruit all the dental surgeons in case finances remains the issue, he added.
Another doctor said, "the government is giving slogans like "beti padhao beti bachao", but we are forced to beg people and sell vegetables and ice cream to earn for our livelihood."
Last week, some dental surgeons had also burnt their professional degrees in resentment.
Standing in support, the Indian Dental Association (IDA) J&K Branch, on Monday, had expressed its concern about the issues of almost 7000 dental graduates awaiting recruitment since year 2008.
It demanded to absorb unemployed dental doctors through JKPSC and other centrally-sponsored schemes at the earliest and framing of a regular policy for recruitment of dental surgeons every year on the basis of the number of seats allotted in various undergraduate and postgraduate level in various Government Dental Colleges around in J&K.
In a statement issued on Monday, the IDA J&K said that 1000 dental graduates and postgraduates were now ineligible for appearing if any future JKPSC exams as they had crossed the upper age limit without facing JKPSC exams even once.
"J&K has since year 1947 only got 543 dental graduates recruited through JKPSC which shows the callous and step-motherly treatment towards dental fraternity. The World Health Organisation recommends one dental surgeon for 7500 persons," it stated.
The IDA J&K further stated, "The competent lot of dental candidates appointed through CEET around J&K are going into depression after their graduation and post graduation from various Government Dental Colleges of J&K. The file bearing No HD/Plan/68/2018 is gathering dust and is being tossed between the Health department and Finance department in the civil secretariat since decades."
"A separate Directorate of Dentistry for smooth redressal of demands and grievances should come up in J&K as in other states," the statement read as quoted by Greater Kashmir.

Also Read: Violence against Doctors: Sion Hospital Residents resume duties after safety assurance, Dean releases provision for institutional FIR
Source : with agency inputs