Novel bone substitute may promote healing after tooth extraction: Study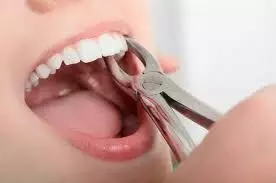 CO3Ap is an efficient bone substitute after tooth extraction as it promotes the formation of soft tissues, including connective tissue according to a recent study published in the International Journal of Implant Dentistry.

Low bone quantity and quality are serious problems that affect the prognosis of implants in the cosmetic field. Therefore, artificial bone substitutes are frequently used. However, whether there is a difference in the effect of either bone substitute on soft tissue healing is unclear given their greatly different absorbability. In this study, researchers used hydroxyapatite (HAp) and carbonate apatite (CO3Ap) as bone substitutes to analyze the epithelial and connective tissue healing after tooth extraction.
The methods and techniques of implant treatments have improved dramatically since the 1950s, and the range of clinical adaptation has expanded significantly. These developments are supported by bone augmentation with bone substitutes, which has become an indispensable treatment option as a pretreatment for implant treatment. In addition, there are many bone substitutes, and they are used based on the preference and experience of the operator, as well as the operator's understanding of the characteristics of the material.
In vitro, oral mucosa-derived epithelial cells (OECs) collected from 4-day-old Wistar rats were seeded on hydroxyapatite or CO3Ap and evaluated for adhesion, proliferation, migration, apoptosis, and morphology. Fibroblasts (FBs) were also analyzed for their ability to express collagen. In vivo, the extraction of maxillary right first (M1) and second molars (M2) of 6-week-old male Wistar rats were performed, followed by insertion of hydroxyapatite or CO3Ap granules into the M1 and M2 sites. The oral mucosal healing process was then evaluated histochemically after 7 and 14 days.
The results of the study are:
In vitro, high collagen expression by FBs in the CO3Ap group was observed and the surface analysis showed the spreading of the FBs on the CO3Ap surface. However, the activity of OECs was suppressed on CO3Ap. Two weeks after CO3Ap implantation, soft tissue healing was observed, and recovery of the connective tissue was observed on the remaining CO3Ap.
Thus, their results suggest that the formation of soft tissues, including connective tissue, was promoted by CO3Ap in the extraction socket within a short period.
Reference:
Effect of carbonate apatite as a bone substitute on oral mucosal healing in a rat extraction socket: in vitro and in vivo analyses using carbonate apatite by Yuki Egashira, et al. published in the International Journal of Implant Dentistry.
https://journalimplantdent.springeropen.com/articles/10.1186/s40729-022-00408-4
Source : International Journal of Implant Dentistry volume BDS
Dr. Shravani Dali has completed her BDS from Pravara institute of medical sciences, loni. Following which she extensively worked in the healthcare sector for 2+ years. She has been actively involved in writing blogs in field of health and wellness. Currently she is pursuing her Masters of public health-health administration from Tata institute of social sciences. She can be contacted at editorial@medicaldialogues.in.