Study finds link between Periodontitis and Osteoarthritis in Adults with Diabetes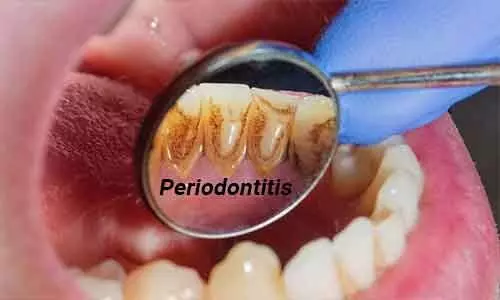 Periodontitis and osteoarthritis are major public health concerns that result in decreased quality of life among middle‐aged and older adults.
Researchers have found in a new study that there is a strong positive association between severe periodontitis and osteoarthritis in middle‐aged and older individuals with type 2 diabetes. The study has appeared in the Journal of Arthritis Care and Research.
Therefore, Hyoung‐Sik Kim and associates from the Department of Orthopedic Surgery, Yonsei University College of Medicine, Seoul, Republic of Korea conducted the present study to examine the relation between the severity of periodontitis and osteoarthritis according to the presence of type 2 diabetes.
The investigators included a total of 3,527 participants aged ≥50 years from the Korean National Health and Nutrition Examination Survey. Periodontitis was assessed using the Community Periodontal Index; severe periodontitis was defined as periodontal tissue forming deep periodontal pockets ≥6 mm depth. Osteoarthritis was defined as Kellgren–Lawrence grade ≥2 on radiographic images of the knee or hip area with joint pain. The odds ratios (ORs) and 95% confidence intervals (CIs) for osteoarthritis according to the severity of periodontitis, stratified by type 2 diabetes, were calculated using multiple logistic regression analyses.
The data was collected and analyzed to derive at the following result which showed that participants with type 2 diabetes was more likely to have osteoarthritis as the severity of periodontitis increased; severe periodontitis was marked at 3.01 after adjusting the values for age, sex, body mass index, smoking status, alcohol consumption, regular exercise, education level, household income, hypertension, and frequent tooth‐brushing. However, this positive association was not found in individuals without type 2 diabetes after adjusting for the same co‐variables.
Therefore, the authors concluded that "severe periodontitis was positively and significantly associated with osteoarthritis in middle‐aged and older individuals with type 2 diabetes."
"Our findings suggest that the oral inflammation manifesting in periodontitis maybe at least partly involved in the pathogenesis of osteoarthritis, particularly in patients with type 2 diabetes", they further added.

Source : Journal of Arthritis Care and Research