Dermoscopy useful in diagnosis of pseudo-Kaposi sarcoma- IJDVL study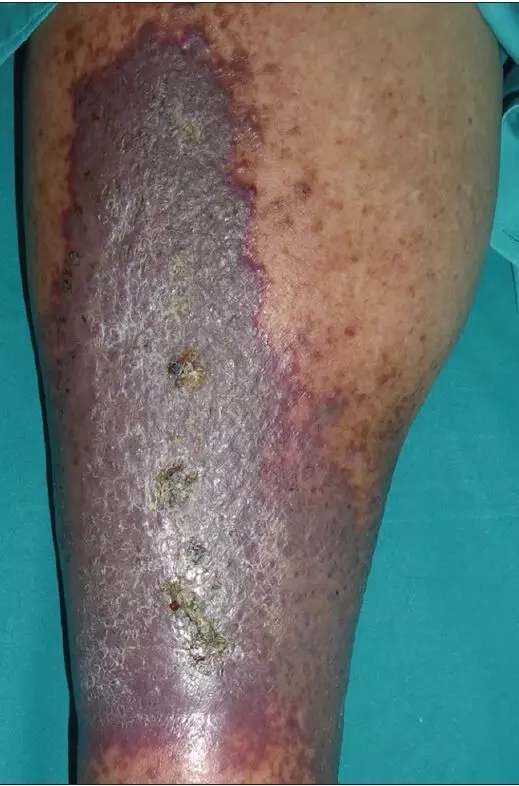 Pseudo-Kaposi sarcoma also known as acroangiodermatitis, is a disorder of reactive blood vessel proliferation usually seen in conditions with vascular disruptions. It presents as violaceous papules which may coalesce into plaques, mimicking Kaposi sarcoma thus the name. It is commonly seen in chronic venous insufficiency in acroangiodermatitis of Mali and congenital arteriovenous malformations in Stewart-Bluefarb syndrome.

It is postulated that this response could be mediated by various angiogenic factors, including vascular endothelial growth factor and PGE1 which stimulate the proliferation of fibroblasts and endothelial cells.7 The increase in blood pressure presumably leads to extravasation of hemosiderin.

In all cases the clinical diagnosis confirmed with histopathological and immunohistochemical examination: CD34 was expressed in endothelial cells but not in the surrounding perivascular cells and immunostaining for human herpesvirus 8 (HHV-8) was negative.

Dermoscopic Findings-

All of them presented a mauve to violaceous background color with polymorphic vessels which reflect the vascular proliferation (the red lacunae probably embodying the lobular proliferation). Polychromatic color change (or rainbow pattern) described earlier in Kaposi sarcoma, was demonstrated in 3 patients. It is probably related to the different refraction indices of polarized light which exist throughout a disorganized dermis with increased vascularity.
White shiny structures, encompassing white shiny lines, white shiny areas and rosettes, were seen in all cases corresponding to the fibroblastic proliferation and are probably linked to the interaction of polarized light with collagen due to a birefringence phenomenon. Superficial white scales were also present in all cases that corroborated with the orthokeratotic hyperkeratosis which is sometimes demonstrated on biopsies.

The "sticky fiber" sign was present in the first case reflecting the presence of spongiosis, transudation, excoriation or ulceration that is probably due to increased blood pressure. In one case coppery pigmentation was noted mostly due to associated stasis dermatitis which causes extravasation of red blood cells and hemosiderin deposits

Thus dermoscopy can be useful in distinguishing acroangiodermatitis from other conditions which can mimic it clinically like lichen planus, angiokeratomas, pigmented purpuric dermatitis, lichen aureus and lichen simplex chronicus. The increased fibroblastic activity in pseudo-Kaposi sarcoma presenting as white shiny structures might differentiate it from Kaposi sarcoma. So dermoscopy can be helpful to differentiate the two diseases but histopathology with immunostaining for HHV8, D2-40 and CD34 that remains the gold standard for the diagnosis of pseudo- Kaposi sarcoma.
Source- Navarro-Fernandez I, Duran-Vian C, Gonzalez-Vela MC, Yange-Zambrano G, Gonzalez-Lopez MA. Is dermoscopy a useful tool in pseudo-Kaposi sarcoma? Indian J Dermatol Venereol Leprol. 2021;87:709-12.
Source : Indian Journal of Dermatology, Venereology and Leprology