Olopatadine bests rupatadine for treating chronic idiopathic urticaria, finds study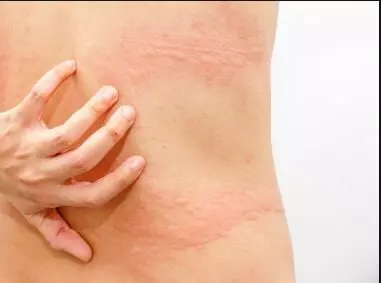 Data from a recent study published in the Biomedical and Pharmacology Journal has demonstrated olopatadine to have superior efficiency and safety profile to rupatadine for the treatment of chronic idiopathic urticaria in adults patients.

Olopatadine is a well documented selective histamine H1 antagonist and mast cell stabilizer that works by attenuating inflammatory and allergic reactions. It is a structural analog of doxepin, which has a minimal anti-allergic activity.There are very few studies with a head-on comparison of Olopatadine to rupatadine.

To bridge this gap, Investigators enrolled a total of 60 patients with chronic idiopathic urticaria from the Department of Dermatology at Prathima Institute of Medical Sciences in Karimnagar, India. The population included both males and females that represented ages between 18-70 years. All patients experienced urticarial episodes 3 times a week for at least 4 consecutive weeks and exhibited no detectable causes.
At the outset of the study, the patients were divided 1:1 to receive orally either olopatadine or rupatadine with a dosing schedule of 10 mg daily for 4 weeks.
Each patient was then assessed for the degree of urticarial pruritus, size of urticarial wheals, number of the urticarial wheals, and number of isolated urticarial episodes. The investigators rated the severity of each symptom on a scale from 1-3, thus allowing for a total composite total symptom score of 12.
On data analysis, the following results were revealed.
· the mean total symptom score for those assigned to olopatadine was 7.58. For those in the rupatadine group, the mean total score was 7.63.
· Serum IgE levels were 347.6 for olopatadine and 284.53 for rupatadine.
· Baseline absolute eosinophil count for the olopatadine and rupatadine groups, respectively, were 683.92 and 672.70.
· The mean reduction in total symptom score for those who had received olopatadine was 3, versus a reduction of 2 in those who received rupatadine.
· Both drugs were well tolerated and presented no new adverse events. The event rate was 20% in olopatadine and 23.07% in rupatadine, with the most common effects between the groups being gastric irritation, drowsiness, headache, and dryness of the mouth.
The team concluded that though both antihistamines are indicated for the treatment of chronic idiopathic urticaria, yet olopatadine demonstrates better clinical improvements and fewer adverse events.
For the full article click on the link: "The Efficiency and Safety of Olopatadine against Rupatadine in Chronic Urticaria of Idiopathic Origin: A Comparative Study
Primary source: Biomedical and Pharmacology Journal
Source : Biomedical and Pharmacology Journal