Turban Triad- Entity that highlights role of cultural factors in certain skin diseases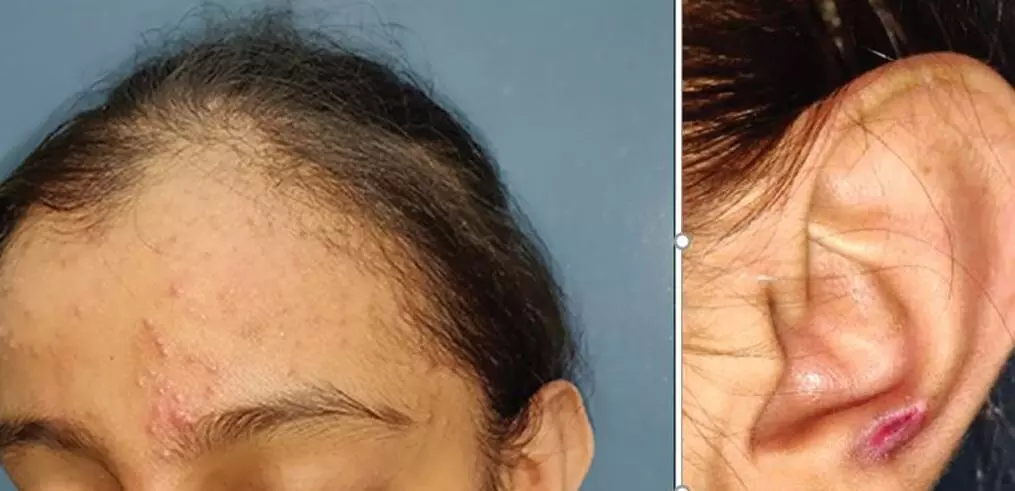 Turban Triad- a new entity1

Sikhism is a religion of the Indian subcontinent in which cutting scalp hair is forbidden. Turban is a long scarf wrapped around the head for protecting the hair wore by most Sikhs the entire day. An article describing a new triad of symptoms and signs seen in these populations was recently published in the Indian Dermatology Online Journal.
A teenage girl presented with a 3‑year history of painful, nonhealing erythematous thickened skin over antihelix and retro auricular folds with comedones and inflammatory papules limited to the forehead. She also had symmetrical areas of alopecia along the frontotemporal areas along with the short hair scattered along the frontotemporal line (fringe sign). All of the features could be explained by the turban headgear wore regularly for the last 5 years. She was diagnosed with a turban ear, acne mechanica, and traction alopecia, all stemming from tightly wrapping the turban around her head with lesions in areas of maximum contact with turban.

Turban ear is like acanthoma fissuratum seen in spectacle wearers, a response of facial skin to repeated trauma and friction.2 Repeated rubbing due to turban leads to follicular ostia damage which along with continuous occlusion causes hyperhydration of the skin, causing problems in resisting shear force resulting in papules and pustules. Traction alopecia is a non‑scarring alopecia due to tight hairstyles and is thus common disorder among Sikh patients.

Management of this condition is a great challenge in these patients as the cutting of hair or removing turban is forbidden by the religion especially in males. The patient was prescribed a combination of topical benzoyl peroxide and clindamycin for her acne lesions, mild topical steroids (fluticasone propionate 0.05%) for the ears and topical minoxidil for traction alopecia with some improvement.

Since the patient was a female she agreed to substitute her turban for a dupatta. However, this may not be an option in Sikh males. In the male Sikh patients following advice can be given to prevent the turban triad to occur-

tying of hair loosely in the turban
loosely wrapping the turban at the base
avoiding any pressure points with turban
using a softer and non‑starched garment for the turban
wrapping the ear with cotton wool
avoiding wearing a turban at night
In conclusion this case highlights the role of cultural factors in certain skin diseases and these must be identified to avoid unnecessary investigations and treatment while facilitating preventive action.

Source-

Mehta H, Kumar S, Bishnoi A. Turban tribulations: Triad of turban ear, traction alopecia, and traumatic acne in a Sikh patient. Indian Dermatol Online J 2021;12:770-1.
Williams HC. Turban ear. Arch Dermatol 1994;130:117‑9.
Source : Indian Dermatology Online Journal