Women with high BP during pregnancy may develop diabetes later on: Study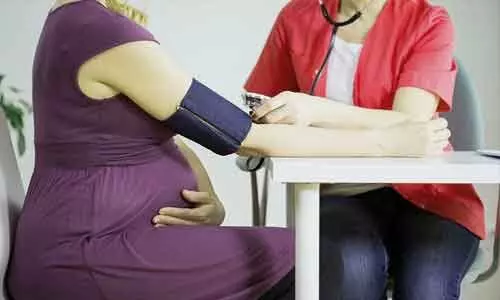 Canada: Women with prior hypertensive disorders of pregnancy (HDP) are at higher risk of developing type 2 diabetes, finds a recent study in the journal Diabetologia. The study results indicate that postpartum diabetes prevention and screening counseling may be warranted in women with a history of hypertensive disorders of pregnancy (HDP).
The association between a history of HDP and subsequent type 2 diabetes remains inconclusive. Grace Zhao, University of Toronto, Toronto, ON, Canada, and colleagues reviewed the most recent evidence to quantify the association of previous HDP with incident diabetes.
For the purpose, the researchers performed a systematic search of online databases up to 17 February 2020 and identified observational studies of the association between HDP (pre-eclampsia or gestational hypertension) and incident diabetes. It excluded studies of women with pre-pregnancy diabetes.
Two independent reviewers screened citations and abstracted results. Study quality was assessed in duplicate using the Newcastle–Ottawa Scale. Random-effects models were used to pool effect estimates. Heterogeneity was assessed using the I2 statistic.
The researchers included 16 cohort studies with a total of 3,095,457 participants (unspecified HDP n = 5, pre-eclampsia only n = 4, gestational hypertension and pre-eclampsia n = 7) after screening 4617 citations.
Key findings of the study include:
Risks of subsequent diabetes were significantly higher in women with a history of any HDP (HDP: adjusted hazard ratio [aHR] 2.24; gestational hypertension: aHR 2.19; pre-eclampsia: aHR 2.56; preterm pre-eclampsia: aHR 3.05).
The association between HDP and diabetes persisted in studies that adjusted for gestational diabetes mellitus (aHR 2.01).
"HDP are independently associated with a higher risk of diabetes. Further study is needed to determine how HDP contribute to diabetes risk prediction to develop evidence-based screening and prevention strategies," concluded the authors.
The study titled, "Risk of type 2 diabetes mellitus in women with prior hypertensive disorders of pregnancy: a systematic review and meta-analysis," is published in the journal Diabetologia.
DOI: https://link.springer.com/article/10.1007/s00125-020-05343-w
Source : Diabetologia