Dialysis unit at district central hospital in Chittoor to start functioning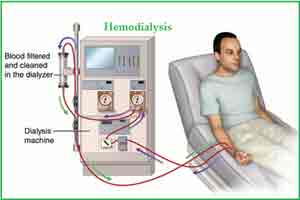 Chittoor:  Chittoor District Collector P S Pradyumna said on Monday that a dialysis unit and emergency maternity ward will start functioning at District Central Government Hospital from August 16 and this would be more benefitted to poor patients coming from abutting areas to the hospital.
He discussed with the government and Apollo hospitals officials at his camp office on various medical issues including setting up of dialysis and emergency maternity ward in the hospital in the town.
The Collector directed medical officials to have continuous monitoring on emergency and OP services in the hospital for providing better treatment to the patients.
He instructed officials to maintain better medical services in the government hospital which has been running jointly by state government and Apollo hospitals and also directed them to run the dialysis and emergency maternity ward which would be functioning from 16 of this month with better quality treatment.
Mr Paradyumna said the trauma care centre will also be establishing soon in the government hospital which would be helpful in emergencies like accidents.
Explaining about the newly functioning dialysis unit, he said every day at least 18 patients in 6 beds in three shifts can avail dialysis services.