Consumption of vegetarian food reduces UTI risk in women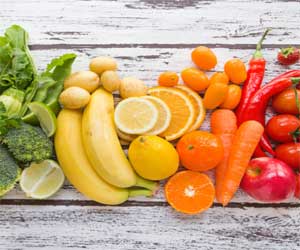 Taiwan: Consumption of vegetarian diet may lower the risk of urinary tract infection (UTI) -- particularly in females and never smokers, a recent study in the journal Scientific Reports has suggested.
According to the study, vegetarian diet was associated with a 16% lower overall risk of developing a UTI compared to non-vegetarians. This apparent effect was stronger in men than in women.
UTI, with a global prevalence of 10 per 1,000 peoples, is one of the most common microbial infections globally. It is associated with considerable societal cost, increasing antibiotic resistance, significant morbidity and a challenge for infection control. UTIs are categorized into two forms: uncomplicated UTI and complicated UTI, owing to different pathophysiology and management.
Studies have show isolates of E. coli from urine specimens of UTI patients to be closely related to the pathogenic E. coli of poultry and pork. Considering that vegetarians avoid meat (pork and poultry), Chin-Lon Lin, Department of Internal Medicine, College of Medicine, Tzu Chi University, Hualien, Taiwan, and collegaues hypothesized that a vegetarian diet may be associated with a lower risk of UTI.
To test their hypothesis, they examined the association between vegetarian diet and UTI risk in a Taiwanese Buddhist population from the Tzu Chi Vegetarian Study—a prospective cohort study that included more than 12000 participants from communities in Taiwan. From this population, investigators included a cohort of 9724 patients—all of which were 20 or older and were UTI free prior to the start of the study.
The patients were followed from 2005 to 2014 and assessments of their disease status were performed through queries of the National Health Insurance Research Database and the National Health and Welfare Data Science Center. Their dietary habits were assessed through a 57-item food frequency questionnaire that was part of the Nutrition and Health Survey in Taiwan—investigators classified participants as vegetarian if they self-identified as vegetarians or if they reported "no eating" in frequency questions related to individual meat and fish items in the questionnaire.
The researchers obtained information relating to participants' demographics, education level, medical history, and lifestyle habits—such as diet, physical activity, and other information about other modifiable risk factors. As the study population was made up of Buddhists, it was assumed that the volunteers were currently non-smokers and did not consume alcohol.
Key findings of the study include:

The overall ratio of non-vegetarians to vegetarians was about 2:1 and the vegetarian group was older, had a higher proportion of female participants, had received less education, and was less likely to have a history of smoking or alcohol-drinking.
The vegetarian group had a significantly lower proportion of individuals with hypertension, diabetes, hyperlipidemia, and comorbid conditions that would predispose them to UTIs.
During the 10-year follow-up period, 661 individuals were diagnosed with a UTI.
UTI risk among vegetarians was significantly lower than the risk observed among non-vegetarians (HR 0.84; 95% CI, 0.71–0.99, P=0.038). Overall, 217 of the 3040 vegetarians developed a UTI compared to 444 cases among the 6684 non-vegetarians.
When examining potential risk factors, results indicated age, female, diabetes, urine retention, and renal failure were associated with significant increases in the risk of UTI.
Hypertension, urinary obstruction, urolithiasis, and immune dysfunction were associated with non-significant increases in UTI risk.
"Vegetarian diet is protectively associated with UTI particularly in female and for uncomplicated UTI," wrote the authors.
"Further study with identification of pathogens from urine culture is needed to clarify the relationship among UTI risk, pathogens, and vegetarian diet," they concluded.
This study, "The risk of urinary tract infection in vegetarians and non-vegetarians: a prospective study," is published in the journal Scientific Reports.

Source : Scientific Reports