Sugary caffeine drinks may lead to poor sleep quality in young women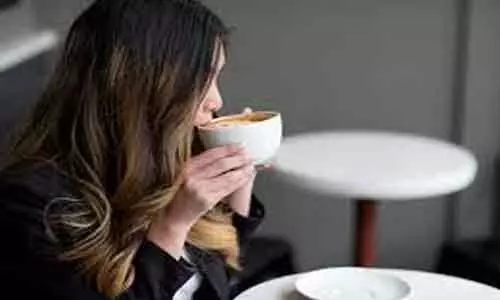 USA: The consumption of sugary coffee beverages and energy drinks is linked to worst sleep quality in young women, a recent study in the journal Sleep Health has found.
According to the study, about half of the young women reported poor sleep quality. Participants consuming energy drinks and high-calorie coffee drinks compared with non-consumers had poor sleep quality. Pittsburg Sleep Quality Index (PSQI) was used to determine the sleep quality.
Association of dietary patterns with sleep quality has not been well studied, specifically among young adults. Given the significant life changes they are experiencing, it becomes important to study factors associated with sleep quality among young adults, which can influence not only sleep quality but also dietary behaviors.
To address this, Deborah Rohm Young, Department of Research & Evaluation, Kaiser Permanente Southern California, CA, USA, and colleagues examined the cross-sectional association of sleep quality among 462 women at age 23 years.
The researchers used the PSQI to define sleep quality. Beverage habits were assessed using a survey that asked the women how often they drank soda, sports drinks and sweetened coffee-based drinks like mochas or frappuccinos over the past seven days.
Key findings of the study include:

About 47% of participants were White, 25% Black, 10% Hispanic, and 18% Other. Almost ½ (45%) reported poor sleep quality.
Compared with participants reporting consuming no energy drinks, participants who reported consuming any energy drinks had PSQI scores that were 0.84 points higher (7.08 ± 0.51 vs 6.24 ± 0.39) (indicating poorer sleep quality).
Participants who reported drinking one or more high-calorie coffee drinks had PSQI scores that were 1.00 points higher compared with those reporting drinking no high-calorie coffee drinks (7.14 ± 0.51 vs 6.14 ± 0.42).
Fruit or vegetable intake was not associated with PSQI score.
Two findings stand out, Young said.
"First, that prevalence of poor sleep quality was so high—almost half of the participants reported poor sleep quality," she noted. "Second, that (consuming) sugary coffee drinks, even some compared with none, was associated with poor sleep quality."
The study wasn't designed to prove that coffee-based drinks caused the women's sleep problems. And it's possible, the authors note, that sleep problem may lead to consuming sugary caffeinated drinks by day, which may lead to more sleep problems.
"Young women with poor sleep quality should consider their sugary caffeine use to determine if it may be associated with their sleep," wrote the authors.
The study, "Dietary behaviors and poor sleep quality among young adult women: Watch that sugary caffeine," is published in the journal Sleep Health.

Source : journal Sleep Health