Digital Health will do wonders in improving efficiencies in Indian healthcare: Hajo Oltmanns, SVP, Elsevier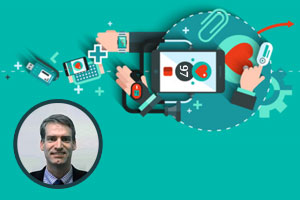 As the need for healthcare rises in India, the country faces tremendous challenges in delivering efficient and quality healthcare services to all. Digital Health seems like a need of the hour which can increase the efficiency of healthcare services and improve quality of treatment outcomes.
In a one-on-one with Hajo Oltmanns, SVP, Commercial, Elsevier, one of the prominent names advocating Digital Health, Medical Dialogues delves deeper into understanding how Digital Health can solve this persistent problem by empowering medical professionals to deliver advanced healthcare services across the globe. Read Excerpts Below
Q) India is lacking far behind USA in terms of technology and the concept of digital health is still new to India. How do you think this digital health system will help the country?
Digital health is a term that often, is ill-defined. In my opinion, digital health refers to anything that facilitates access to online referential solutions. In other words, any healthcare data currently on paper is put into an electronic format which can easily be accessed, searched, and one that helps healthcare professionals get the right information, data and even answers in a cost- and time-efficient way.
India is off to a great start in its digital health adoption journey. For instance, the Ministry of Health is working towards a universal Electronic Medical Records (EMR) that will put patients in the center of care and give longitudinal access of data to healthcare providers. While this marks a crucial step, EMR alone has limited impact in reducing medical errors and improving patient outcomes. By integrating evidence-based Clinical Decision Support Systems (CDSS) within the EMR, care teams in India will be able to make better, evidence-based care decisions and ultimately raise the quality of care while reducing the impact and occurrence of any negligence during the care journey of the patient.
Q) How will digital health systems empower doctors and nurses in healthcare delivery?
Digital health can do wonders in improving efficiencies in healthcare. In India, where physician-to-patient ratios are low, doctors and nurses are extremely time-starved and over-burdened. Solutions that deliver patient-specific information or the latest medical evidence to physicians at point-of-care can significantly reduce the time that healthcare professionals spend away from the bedside (whether it is for documentation, or manually searching existing biomedical literature for the content they need), which consequently means more face time with patients and higher efficiency in managing multiple cases.
Certain solutions help physicians get to the right answers in the least time. For example, if a doctor wants to confirm a diagnosis or a treatment plan, having all the knowledge on one single platform with advanced search algorithm will enable him to find the exact information he needs quickly. Such reference and decision support solutions reduce the time of research, improve accuracy of diagnosis and treatment plan, and keep clinicians updated with advancements in healthcare.
On the nursing side, similar evidence-based nurse training and education platforms inform nursing protocols and practices which are easily accessible and searchable. Also, animations and videos can improve the competence level of nurses in a more efficient way.For example, our Clinical Skills solution can help hospitals to get their nurses ready to practice and decrease the high turnover rate by expediting the learning and keeping them engaged.
In short evidence-based digital health solutions have the potential to dramatically impact the quality of care delivered by supporting healthcare professionals in making the right care decisions at the right time.
Q) What in your opinion are the basic challenges in healthcare delivery?
A fundamental problem in healthcare delivery, to which we are aiming to provide better solutions is unwarranted variability of care. There are two broad types of variability, namely knowledge variability and operational variability.
Knowledge variability poses the greatest threat to the quality and cost efficiency of health and healthcare delivery and is more challenging to identify and address. With medical knowledge expected to double within 73 days by 2020, often physicians are not aware of what they don't know. They can not rely solely on their education, intuition and experience. Instead, they require tools that offer them the right information at the right time in the right care settings for the right patient.
Operational variability is when healthcare systems, physicians, nurses and other clinicians deliver care differently and, as a result, experience variations in outcomes. Variability arises, for example, when a doctor misses a certain procedural step or if a nurse does not follow the right protocol, which compromises the patient's safety.
In a country like India which has a billion plus people, delivery of quality, efficient and cost-effective healthcare is crucial and pivotal in transforming India's healthcare standards. Diversity in climate, standards of living, receptiveness to quality healthcare solutions leads to multi-fold challenges for medical practitioners.
Providers can no longer afford the consequences arising from care variability, including sub-optimal clinical outcomes, rising patient safety incidents, and even inadvertent deaths due to medical errors. Thankfully, CDSS are the front-runners in delivering evidence-based medicine to improve clinical outcomes which can transform healthcare safety and quality.
Q) How are Elsevier's range of solutions addressing these challenges?
At Elsevier, we provide a comprehensive set of digital solutions to match crucial needs at every point across the continuum of care. To best tackle care variability, our suite of clinical decision support solutions is enabling healthcare professionals to improve clinical outcomes through evidence-based care.
Our flagship clinical reference platform,
ClinicalKey
is accessed by more than 4,400 institutions worldwide, including India. It acts as a clinical search engine, making it easier for physicians, nurses, pharmacists and other health professionals to find and apply relevant knowledge. It offers the complete and current collection of trusted content from books, journals, drug information, guidelines, clinical overviews and patient education, designed to empower the medical practitioner to drive safer, standardized care.
On the radiology side, we are focusing on
STATdx
which is a comprehensive decision support tool that radiologists can rely on. It supports radiologists with credible, reliable online diagnostic decision support that increases speed, accuracy and confidence in diagnosing complex imaging cases.
Order Sets
is a solution targeting the hospital setup particularly to ensure consistent delivery of high-quality, cost-effective care. It is primarily designed to ease out order information flow in a clinical environment. Designed by clinicians, for clinicians, it is an intuitive, cloud-based application for the authoring, reviewing and task management involved with developing and maintaining order sets.
On similar lines, we have another product –
Clinical Skills
– which combines competency management features with over 1,600 evidence-based skills and procedures to create a powerful resource that helps address the need for both care consistency and competency validation. At the same time, it positions nurses, therapists and other health professionals in alignment with the latest professional guidelines and key standards of care — all of which allows them to improve practice and patient outcomes. It looks like a brief text summary, then there is an animation which helps to see how it is done in practice, then a test is taken at the end, administration can check the knowledge and find out whether the nurses are fit to apply their skills in practice.
Our advancedCDSS solution that features some level of artificial intelligence (AI) is
Arezzo 
as well as
Via Oncology
. It takes medical guidelines, protocols, and order sets, combines them with relevant patient information and presents personalized patient pathways and testing advice to clinicians. The platform ensures that the physician and the rest of the care teams follow step by step procedures so that they do not miss anything. The clinical pathway further informs what action needs to be done on a longer term. By recording the decisions taken, Arezzo also enables a virtuous circle of continuous evaluation and improvement. This allows healthcare organizations to see, and reward improvements in care and outcomes.
In your vast experience, what challenges does a company face in implementing digital health systems?
Some of the issues in implementing digital health systems can be summarized as follows:


Financial constraints: Majority of hospitals in India lack sufficient funds to implement digital health solutions. As such, it is important for the providers of such technology tools to help hospitals go beyond the costs in recognizing, understanding and ultimately achieving a return on investment from digital health implementations.


Willingness to change: Often, there is significant inertia and resistance towards change as current practices and methodologies seem to work well and there is nothing 'broken' or problematic about the existing system to fix. By highlighting the opportunities that digital health systems bring, however, we aim to show hospitals the very benefits including the increase in the knowledge levels of medical personnel, expediting the diagnosis process and improving the overall quality of healthcare


Global adaptation: What works in one country may not work in other country, so we must be aware of different clinical practices and contents which are practical and accepted country-wise. Keeping this in mind, we are updating our data continuously as per country standards.


Q) Where do you think Elsevier stands in delivering solutions that are relevant to India?
We need to clarify our roadmap of what solutions we have to bring to India and when. Our
ClinicalKey 
reference and decision support solution is well established in large hospitals and medical colleges both government and private which can be considered a successful launch in the country.
Next area is
Order Sets 
which gives us an opportunity to find right way to talk about return on investment (ROI) by implementing this solution. There is a lot to be done in India to help nurses, medical practitioners where care plans and clinical skills can play a significant role.
We are also taking our
Arezzo
solution to certain institutions in India. While this active CDS inference engine can work in almost any country, discussions are taking place on transferring Indian specific protocols into electronically usable guidelines so that gaps can be easily addressed in the local healthcare settings.
Treatment protocols are different in India but the market is really promising. We have operational centers in Chennai, Gurugram and Mumbai with close to 1,000 employees. By focusing on bringing together the three key pillars of content, technology and analytics, we are committed to help the country realize its 'great and healthy India' vision.