New Delhi: Doctors at Ambedkar Hospital remove a rare giant tumor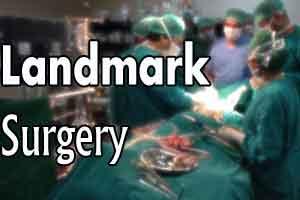 Doctors at Ambedkar Hospital remove a rare giant tumor- probably the 3rd largest in the world

New Delhi: The doctors at the surgery department in the state run Dr Baba Saheb Ambedkar Medical College & Hospital, Rohini successfully operated upon a giant Cystic Pheochromocytoma in a 65 year old lady. Pheochromocytomas are tumors arising from the adrenal gland, a small gland measuring a centimetre normally and which is piggy backing the kidneys and produces important hormones essential in maintaining the blood pressure, the glucose levels, and stress levels in the body and sex hormone levels amongst its other important functions.

This tumor is relatively uncommon and begins in the adrenal gland and is responsible for headaches, high blood pressure, and palpitations or flushing. Even though a pheochromocytoma is usually benign, it may still be life-threatening as it may release large amounts of adrenaline into the bloodstream.

The tumour was among one of the largest reported tumors of adrenal gland, not only in the country but also the world. The tumor measured 25 x 17 x 15 cms and weighed about 2850 grams. The patient is doing well after three months of surgery.

The surgical team was led by Associate Professor Dr Amit Gupta under the guidance of Prof RCM Kaza along with Assistant Professor Dr Lovenish Bains and Dr Manish Agarwal. The surgery proved difficult and challenging as the tumour was densely adherent to the aorta, renal vessels and upper pole of left kidney, quoted the surgeons.

The anaesthesiology team comprising of Dr Rajinder Kumar Barua and Dr Anita Rahal said that it took a great skill to maintain the vitals of the patient during the procedure since these patients go into fluctuant blood pressure levels during surgery. However, the entire procedure was smooth and without any complications.

The pathologists Dr Renu Gupta and Dr Karsing Patiri identified the tumor to be a giant cystic pheochromocytoma in consultation and further tumor marker studies with Prof Neeta Khurana of Maulana Azad Medical College, New Delhi.

Dr P S Khatana, Head of Surgery congratulated the faculty for this feat in this hospital for the first time. Director Principal of the college, Prof Achal Gulati & Medical Superintendent of the hospital, Dr Puneeta Mahajan congratulated the surgery and anaesthesia teams for their work and said that such procedures test the skills of the operating teams. Dr BSA Hospital is a large tertiary care hospital in Rohini, which has been upgraded into the teaching hospital attached to the upcoming Dr BSA Medical College, which is expected to take in a batch of students from next year onwards.