Doctors CANNOT LIST with Online Platforms like Justdial or Practo- Medical Council gives RTI Response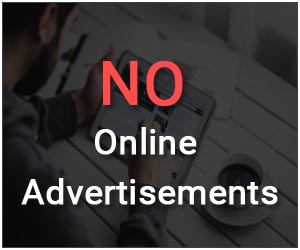 Mumbai: Responding to an RTI, the Maharashtra Medical Council has answered on registered medical practitioners of allopathy cannot list themselves with Online internet platforms including JustDial, Sulekha and even practice management software like PRACTO that allow online consultations and revenue sharing.
The move comes as a big setback to several Indian healthcare startups that are banking on the concept of online doctor search as well as online consultations to run their operations.
Maharashtra Medical Council is the largest state medical council in India having more than 1.5 lakh doctor registered with it. Recently, responding to an RTI filed by Dr Prasad Kulkarni, MAPPM, Sanjay Deshmukh, Registrar/Public Information Officer Maharashtra Medical Council threw light on the current council position on doctors being listed on various online internet platforms.
Dr Kulkarni in his RTI questioned whether a registered medical practitioner can be listed himself/ herself through online internet platforms like example justdial/ Sulekha. The doctor added that these platforms are assuring top listing of medical practitioners after entering into an agreement with their paid / premium services and questioned whether there are any guidelines to this effect.
To this, the council responded with a clear " NO", the implication of which means that doctors registered in Maharashtra cannot be registered with online listing platforms, nor are there any guidelines for them.
Another resounding NO was given by the council when the RTI questioned about registered medical practitioners associated with practice management software like PRACTO as well as other platforms which allow online consultations and revenue sharing.
With the advent of technology, platforms of online consultations are indeed becoming a rage in India. Doctors are seen logging on to give online consultations to patients, and the revenue so generated is shared between the doctor and the online platform.
On the patient front, Online and Telephonic consultations may appear as an easy alternate for visiting a doctor's chamber. With the rise of online portals in India, the consultations online appear comparatively cheaper than personal visits to the doctors. The consultations while providing an ease of access and budget, at the same time come at a
cost of lack of the physical examination of a patient-an integral part of a medical diagnosis.
Errors in such cases may have larger repercussions. Medical Dialogues team had earlier reported about the Bombay HC judgement in the case of telephonic consultations where it held that prescribing medicines to patients without diagnosis amounted to culpable negligence and turned down the anticipatory bail pleas of a doctor couple booked for the death of a woman patient.
Read Also: ATTENTION Doctors- Telephonic Consultation Amounts to Culpable Negligence, will attract IPC 304What State Medical Council Says, Goes
With lack of MCI guidelines, many matters of medical ethics can be specified by state medical councils for their particular state. While the Maharashtra Medical Council has issued the statement only recently, a similar stand against online portals was earlier taken by the Karnataka Medical Council (KMC) which issued a warning to its doctors involved in providing treatment through online mode.
"It is cardinal that online consultations are against the code of ethics since doctors need to see the patient physically and treat them clinically, which does not happen in case of online consultations. It may lead to further complications, which is nothing but playing with the life of a patient," the council had stated
The KMC had further clarified, "Merely because technology is advanced, it does not suffice treating patients online. Hence, it should not be executed."
Read also: Online consultation may lead to Suspension of Doctor's License: Medical Council issues a warning
What sort of advertising is allowed? What Action can be
Clause 6.1 of the Indian Medical Council (Professional Conduct, Etiquette and Ethics) Regulations, 2002 deal with the type of Advertisement that is permissible to a medical practitioner. This states
6.1 Advertising:
6.1.1 Soliciting of patients directly or indirectly, by a physician, by a group of physicians or by institutions or organisations is unethical. A physician shall not make use of him / her (or his / her name) as subject of any form or manner of advertising or publicity through any mode either alone or in conjunction with others which is of such a character as to invite attention to him or to his professional position, skill, qualification, achievements, attainments, specialities, appointments, associations, affiliations or honours and/or of such character as would ordinarily result in his self aggrandizement. A physician shall not give to any person, whether for compensation or otherwise, any approval, recommendation, endorsement, certificate, report or statement with respect of any drug, medicine, nostrum remedy, surgical, or therapeutic article, apparatus or appliance or any commercial product or article with respect of any property, quality or use thereof or any test, demonstration or trial thereof, for use in connection with his name, signature, or photograph in any form or manner of advertising through any mode nor shall he boast of cases, operations, cures or remedies or permit the publication of report thereof throughany mode. A medical practitioner is however permitted to make a formal announcement in press regarding the following:
(1) On starting practice.
(2) On change of type of practice.
(3) On changing address.
(4) On temporary absence from duty.
(5) On resumption of another practice.
(6) On succeeding to another practice.
(7) Public declaration of charges.
6.1.2 Printing of self photograph, or any such material of publicity in the letter head or on sign board of the consulting room or any such clinical establishment shall be regarded as acts of self-advertisement and unethical conduct on the part of the physician. However, printing of sketches, diagrams, picture of human system shall not be treated as unethical.
"Action u/ sec 22 of Maharashtra Medical Council shall be initiated if unethical as above established," stated the state medical council