Punjab Doctors Hold Protest after Police officials refuse to register case against violent Attendants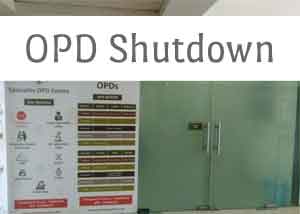 Mallet, Punjab: Seeking suspension of an Assistant Sub-Inspector (ASI) and arrest of a man who allegedly misbehaved with their colleagues, the doctors attached to the Civil Hospital held a protest and shut OPD services down. The protest got support from the Indian Medical Association (IMA).
The incident happened on July 13 when a male patient, who had suffered an electric shock, was brought to the hospital. He soon succumbed to his injuries
Later, when the attendants of the patient were informed about his death; one of them used foul language and misbehaved with the doctor. The information of the incident was immediately given to senior police officials.
"However, after almost three hours, when an ASI reached the hospital, who was drunk, refused to initiate any action against the accused, saying that they were known to each other," Dr Amritpal Singh, who was harassed while doing his emergency duty, narrated the whole incident to Tribune.
"Then, a case was registered against Gurmeet Singh and the ASI was transferred to the district police lines. It happened only after we sent a tweet regarding it to the DGP. However, we want that the policeman suspended and the accused arrested," the doctor added.
Malout SP Iqbal Singh addressed the protesting doctors and assured that the accused would be arrested soon and policeman suspended. Thereafter, the doctors lifted the protest, adds the daily.
The protesting doctors said that they had gone to meet the local DSP after getting an appointment from him, but they had to wait for 20 minutes standing outside.
Dr Sukhpal Singh, Chief Medical Officer (CMO), Muktsar, also visited the hospital to hold talks with the protesting doctors to shelve the strike.
Read Also: GMCH Chandigarh becomes centre for harassment of doctors, Admin orders Security Review