Doctors Not only Cure, they also Heal: PM Modi Mann ki Baat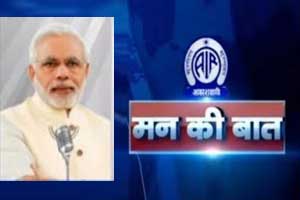 While addressing the nation in a recent 'Mann ki Baat' session, Honourable Prime Minister Narendra Modi appraised the expertise and noble service of doctors all across our country to celebrate their achievements.
The Prime Minister while extending his warmest felicitations on behalf of the countrymen to all our doctors, ahead of Doctor's Day on the 1st of July, said, "We think of doctors only during times of distress. But this is a day when the nation celebrates the achievements of our doctors and expresses gratitude for their spirit of service and commitment towards society."
Putting side by side mothers and doctors, the PM stated, "We are a people who, by nature, revere the Mother as the equivalent of god since she is the source of our very existence, our life. On the other hand, there are times when it is the Doctor who gives us re-birth."



"The role of a doctor is not limited to mere treatment of ailments. Often a doctor plays the role of a family friend, a lifestyle guide. They not only cure but also heal. Today, doctors possess not just medical expertise; they have a vast experience on the co-relation between general lifestyle trends and their effect on our health."



"Indian doctors have carved a niche for themselves in the entire world through their capabilities and skills. Our doctors have gained recognition for their expertise in the medical field, hardworking attitude and the ability to solve complex medical problems," the minister lauded the medical practitioners.
"The fraternity of doctors is special," added his recent post on his twitter handle.



The fraternity of doctors is special. During #MannKiBaat, I conveyed greetings for Doctor's Day.


Doctors from India are admired world over for their skills and excellence. https://t.co/9G67B7fclW

— Narendra Modi (@narendramodi) June 24, 2018
Read Also: PM Modi Praises Medical Fraternity
Read Also: Indian Doctors disappointed with PM Modi's Speech in London