Doctors should work for free on the ninth day of every month : PM Modi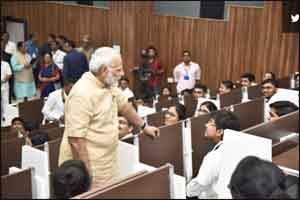 Vadnagar (Gujarat): The prime minister, visited his hometown in Vadnagar recently and was seen addressing the issues of healthcare in the country.
Among the several developmental projects, the Prime Minister also inaugurated GMERS Medical College in Vadnagar and unveiled a plaque to mark its dedication to the nation. He went around the state of the art facility, meeting the students of the facility.
"Today I met youngsters from a medical college. We, as a society, require more doctors who can serve the people," he later said.
In a bid to reduce infant and maternal mortality rates in Gujarat, Prime Minister Modi urged the doctors to work for free on the ninth day of every month.
He added, "The doctors on ninth of every month should work for free and help the mothers here. This will help poor mothers to not travel far off places for delivering babies."
Prime Minister Narendra Modi was also seen slamming the former United Progressive Alliance (UPA) Government for not bringing in a health policy and said it was former prime minister Atal Bihari Vajpayee's government, which brought a comprehensive health policy, between 1998 and 2004.
"The UPA government did not attach importance to the policy, but after the National Democratic Alliance (NDA) came to power the policy was renewed," Prime Minister Modi said, while addressing the gathering at his hometown Vadnagar.
Mission Indradhanush
The prime minister launched the Intensified Mission Indradhanush to accelerate the progress towards the goal of full immunisation coverage. The mission will provide greater focus on urban areas and other pockets of low immunisation coverage. The Prime Minister distributed e-tablets to health workers to mark the launch of ImTeCHO - an innovative mobile phone application to improve performance of ASHAs.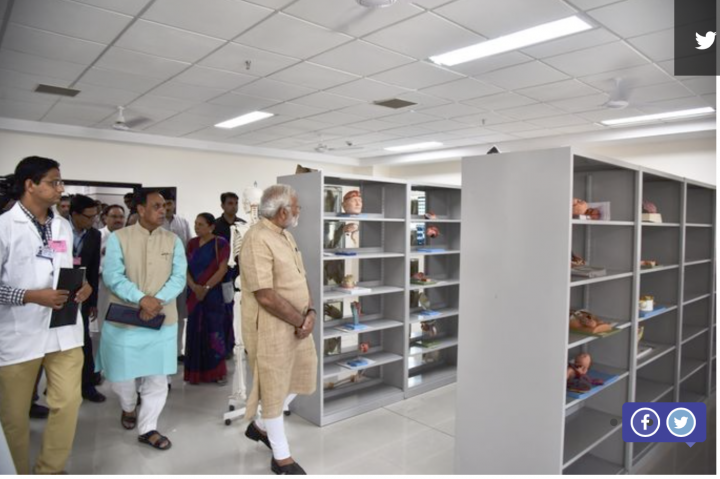 Speaking about the 'Intensified Mission Indradhanush', Prime Minister Modi added, "I request people to think Indradhanush as your own campaign. As much as you feel happy when you donate blood or do other charities, you should also help the poor children to get immunised. You will be blessed."
He asserted that his government has helped people with heart diseases.
"We brought prices of stents down. Work is constantly being done to make healthcare affordable for the poor," Prime Minister Modi stated.
Prime Minister Modi also emphasised on cleanliness and said that doctors and good food may or may not guarantee good health, but cleanliness does.
Gujarat Chief Minister Vijay Rupani and Union Health Minister JP Nadda were also present at the occasion
He also launched some development works.