Dr Harsh Vardhan Union Health Minister apprises parliament on the issue of violence against doctors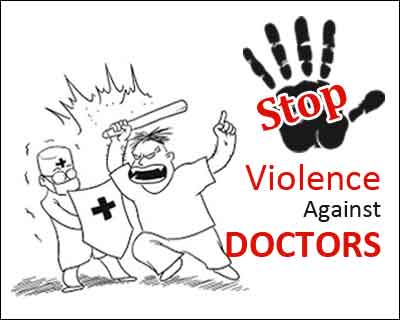 New Delhi: Through a written reply, the Union Minister of Health and Family Welfare, Dr Harsh Vardhan has apprised the Rajya Sabha recently regarding the enactment of a Central Law to deal with the violence against doctors.
Assault on medical professionals has proven to be an uncontrolled horrific menace which doesn't seem to stop. Medical Dialogues has been extensively reporting about the various incidents where doctors bear the brunt of infuriated relatives of patients who attack and abuse the doctors alleging medical negligence.
These rampant instances of violence portray nothing but the lack of trust of patients on their doctors and that medical professionals are being made the scapegoat of the public frustration.
Bringing up this disturbing issue, Member of Parliament, Amar Singh asked the Union Health Minister, Dr Vardhan whether the Government has received any demand from the Indian Medical Association (IMA) for the enactment of a Central Law to deal with the violence against doctors and healthcare staff.
Read Also: Union Health Ministry Constitutes 10 member Panel to Bring Common Law on Violence against Doctors
In his reply, Dr Vardhan stated that Ministry of Health and Family Welfare has received representations from the Indian Medical Association (IMA) requesting for enactment of a central legislation for protection from violence / assault on doctors and clinical establishments.
"The Central Government has constituted a Committee to examine various aspects of a uniform legislative framework to address issues of assault on clinical establishments and doctors on duty. One meeting of this Committee has been held wherein it was agreed by the representatives of Law and Home Departments that a Central Law can be considered. Accordingly, a draft sub-committee has been set up," he informed.
He further apprised the parliament, "In view of recent cases of assault on doctors on duty, for inculcating an effective sense of security among the doctors on duty, the Union Ministry of Health & Family Welfare has also issued an advisory to all States/UTs to consider immediate measures, such as:
i. Security of sensitive hospitals to be managed by a designated and trained force,
ii. Installation of CCTV cameras and round the clock Quick Reaction Teams with effective communication/security gadgets particularly at Casualty, Emergency and areas having high footfalls,
iii. Well-equipped centralized control room for monitoring and quick response,
iv. Entry restriction for undesirable persons,
v. Institutional FIR against assaulters,
vi. Display of legislation protecting doctors in every hospital and police station,
vii. Appointment of Nodal Officer to monitor medical negligence,
viii. Expeditious filling up of vacant posts of doctors and para-medical staff in hospitals / Primary Health Centres (PHCs) to avoid excessive burden / pressure on doctors and to maintain global doctor-patient ratio,
ix. Better infrastructural facilities and medical equipment and provision of extra monetary incentive for the doctors and para medical staff serving in hard/remote areas as compared to major and metro cities with better career
prospects, etc.
"Further, in June, 2019, the Minister of Health & Family Welfare has written to the Chief Ministers of all States to ensure rule of law so that doctors and clinical establishments may discharge their duties and professional pursuit without any fear of violence; and to take action against the perpetrators of violence against doctors, as per law," he added.
Also read: Draft Central Law on Violence against Doctors by July 17: Union Health Ministry to Panel