Dr Harshvardhan to introduce NMC Bill in Lok Sabha on Monday, IMA set to oppose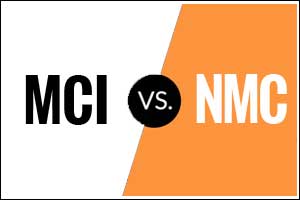 New Delhi: With the Union Cabinet giving its nod for MCI Replacement with the proposed National Medical Commission, the government is all set to introduce NMC Bill in Lok Sabha on Monday.
Confirmation to this effect was made by the Union Health Minister, Shri Harsh Vardhan to media persons on Saturday. The National Medical Commission Bill, which seeks to replace the Medical Council of India and usher in major changes in the country's medical education sector, will introduced in the Lok Sabha on July 22, Union Health Minister Harsh Vardhan said.
"I can only say right now day after tomorrow (July 22), I will be introducing the National Medical Commission Bill which will replace the Medical Council of India.
"Right now, as you know the Medical Council of India has already been superseded and replaced by a board of governors," he told reporters on the sidelines of a programme at the Council of Scientific & Industrial Research (CSIR)-Indian Institute of Chemical Technology.
"The National Medical Commission Bill has been approved by the cabinet... I was thinking of getting it introduced yesterday, but there were technical formalities, so on Monday morning I'll be introducing the Bill in parliament," Vardhan said, expressing hope that it will be passed and becomes a law.
As the Union Health Minister showed positivity towards passing the Bill, Indian Medical Association is gearing to once again oppose the same, reports the
WEEK
. Up till now, everytime the bill has been introduced in the parliament, IMA has shown strong opposition to the passing of the bill
Representatives of the association pointed out to the limited number of elected representatives in proposed commission as well as the clause on bridge course. Earlier the bill proposed a clause for separate licentiate exam, which a thoroughly opposed by the medical fraternity. However, as per the recent amendments, the same will be merged with final year MBBS exam.
The said exam, which will also serve as a licentiate-cum-PG medical entrance exam, will be called National Exit Test (NEXT) will replace NEET PG exam, effectively doing away with the need for a separate exam for PG medical entrances. Besides, in a move which will also bring relief to thousands of foreign medical graduates who face a low passing rate allegedly due to a tough FMGE examination, the same NEXT exam will also replace FMGE exam bringing a sense of uniformity to those MBBS pass outs who have pursued their graduation abroad and now wish to come to practice in India.
The Bill provides that the National Entrance Test, that is NEET, common counselling, and National Exit Test (NEXT) shall also be applicable to Institute of National Importance (INI) like AIIMS to have common standards in the country
Read Also: Common Exit Exam for All MBBS Medicos, whether from AIIMS or FMGE candidate: Cabinet Clears NMC Bill