Dr NK Venkataramana launches Neuro Spine Hospital Chain BRAINS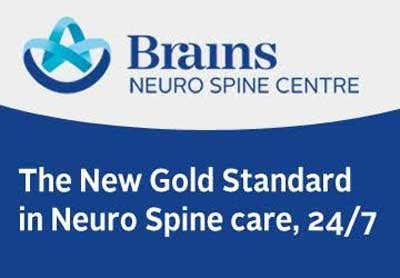 Bangalore: Internationally acclaimed Neurosurgeon Dr N K Venkataramana unveiled a new frontier in Neuro spine care with the launch of BRAINS (Bangalore Regenerative Advanced Institute of Neurosciences), Neuro Spine Care Hospital.
Brains, launched in association with Sparsh Hospital here, is the first private sector specialty tertiary neuro spine care hospital chain in India.
"We have invested Rs 30 corere on medical equipment and technology and are planning to invest Rs 70 crore more within two years," Dr NK Venkataramana, founder and Chief Neuro Surgeon, Brains, told reporters here.
BRAINS Vision:


BRAINS envisions to relentlessly raising the standard of neuro spine care by combining unmatched expertise, by being the trusted experts and genuine empathy


To create state of the art technological infrastructure for neuro-spinal care & provide comprehensive care for such illnesses.


Educate people about the human brain and its true potential


Tackle and dispel societal myths around psychological disorders


Research, preserve and propagate ancient Indian wisdom about the brain and spine


Bring the advances in brain and spinal research to the common man


Indigenise technology in neuro-spinal care


The Brains team will comprise of Dr Venkataramana, Founder & Chief Neuro Surgeon, Dr. Murali Mohan S, Senior Consultant & Neuro & Spine Surgeon, Dr.Gayatri NauroAnastehologist & Critical Care Dr. Satish Babu KN, Neuroendocrinologist, Dr. (Lt Col) M Diwakar, MD, Dr. Christos Panotopoulos, International Visiting Neurosurgeon, Dr. Pradeep Lakshminarayana, Consultant--Neuro Anaesthesia and Critical Care, Dr. Prahlada N.B, Neurootocrhinolaryngologist, Dr. (Lt Col) R Varadarajulu VSM, Dr. SRIDUTT .B .S, Dr.Sreemathy V.
BRAINS has developed a dedicated Neuro Emergency team excelling in 24*7  Neuro Emergency.
Speaking on the occasion Dr. Venkataramana, Founder & Chief Neuro Surgeon said, "We want to focus on what we call "mindcare", with cutting edge technology and propriety healing techniques. At BRAINS, we offer comprehensive healing services to create a healing eco system for every patient suffering from neuro spinal issues."
Dr. Sharan Patil founder Sparsh Hospital said, "Dr.Venkataramana's concept of "BRAINS" comes from his passion for the practice of the art and science of Neurosciences. I have known him for the last 2 decades. His ability to deliver the highest quality care in this field of expertise is a lifetime commitment for him."
BRAINS will offer specialised consultation and surgery under three categories;
Neurosurgery


Microneurosurgery


Complex Spine surgery


Neuro Oncology


Paediatric Neurosurgery


Endovascular surgery


Epilepsy surgery


Endoscopic Neurosurgery


Stereotactic and functional Neurosurgery


Peripheral Nerve Surgery


Pain and Neuro Modulation


Pituitary Surgery


Head Injury


Spine Surgery


Neurology


Paediatric Neurology


Epilepsy


Brain Attack ( Stroke)


Movement Disorder


Parkinson's disease


Demyelinating disease


Degenerative Disease


Neuro Muscular Diseases


Neuro Endocrinology


Neuro Opthalmology


Neuro Otology


Neuro Infections


Neuro Electrophysiology


Sleep Laboratory


Headache


Neuro Critical Care


Centre for Neuro Critical Care


Neuro Anaesthesia


Neuro Radiology


Neuro Pathology


Neuro Rehabilitaion


Stemcell and Regenerative medicine


Neuro Nutrition


Neuro Emergency


Brain Stroke


Brain Attack


Brain Haemorrhage


Brain Injury


Spinal Injury