DSM Sinochem Bags Golden Peacock Eco-Innovation Award - 2015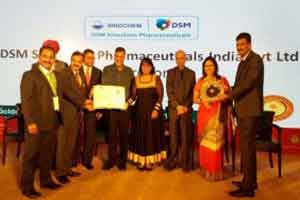 DSM Sinochem Pharmaceuticals India Private Limited –the producer and supplier of Green beta-lactams Antibiotics has bagged the much coveted Golden Peacock Eco-Innovation Award 2015 for excellence in Eco friendly packaging development , first ever initiative by  API manufacturing company. Company's CEO for Asia Pacific, Middle East & Africa (AMEA), Mr Vineet Singhal received this award at 17th World Congress On Environment Management held at Hotel Le Meridian, New Delhi.
The Golden Peacock Awards Jury under the Chairmanship of Justice (Dr.) Arijit Pasayat, former Judge, Supreme Court of India, former Chairman, Competition Appellate Tribunal of India & Authority for Advance Ruling (Customs, Central Excise & Service Tax) conferred the award to DSM Sinochem Pharmaceuticals India Private Limited.
Mr. Vineet Singhal who was also invited to speak, highlighted linkage of environment management with Antimicrobial Resistance (AMR). He said that "AMR is One of the top 3 threats to public health as per WHO. As per published reports there are 700,000 people dying every year globally due to AMR. This number is estimated to increase to an alarming 10 Million people every year by 2050".He added that "The well-known cause of Antimicrobial resistance (AMR) is inappropriate usage of antibiotics in humans & animals, but there is another key reason, which is irresponsible manufacturing practices of the Pharmaceutical companies. As per reports some companies discharge effluent containing potent antibiotic residue in the river water streams, causing not only toxins but also antibiotic resistant bacteria to grow." He added "As a responsible pharmaceutical company, at DSM Sinochem Pharmaceuticals, we have deployed patented biotechnology synthesis to produce green antibiotics reducing carbon footprint by about 50% and have a Zero discharge regime in place at our facility in India. We are even planning to re-validate our supply chain to ensure we don't buy raw material from any company that has irresponsible environmental management systems."
Expressing happiness over receiving the award, Mr. Vineet Singhal said, "This is a great honor and I thank the Institute of Directors, India for this recognition".
DSM Sinochem Pharmaceuticals (DSP) has 140 years of experience in pharmaceuticals. DSP develop, produce and sell raw materials, intermediates and active pharmaceuticals ingredients (APIs). DSP's products are used across the world in anti-infectives, anti-fungals and other therapeutic products such as statins.
DSP is world leader in β-lactam antibiotics having 35% global market share with manufacturing base in The Netherlands, India, Spain, Mexico, Italy and China.
Golden Peacock Awards were founded by the Institute of Directors, India in 1991 and are globally regarded as a benchmark of corporate excellence. The National Quality Award Scheme was instituted to encourage total quality improvements in both manufacturing and service organizations in India.