Opinion: Hostility among authorities and medical community can be counterproductive in the war against Covid-19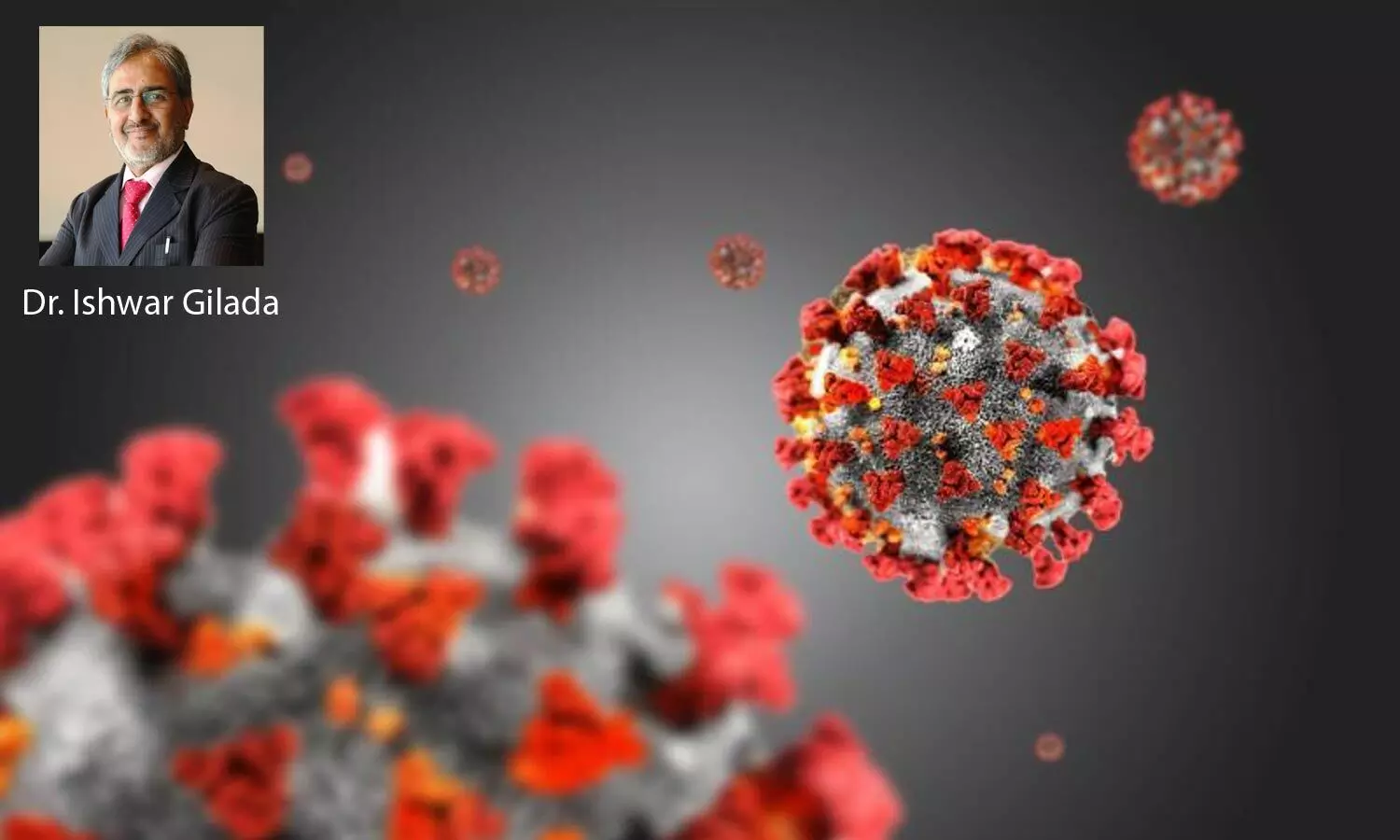 The prevailing atmosphere among healthcare providers in Mumbai city has turned unpleasant following continued rounds of threats from the authorities. With Covid-19 infections growing through roof, Mumbai- the financial and Covid-19 capital of India, is slated to go the New York way vis-à-vis Covid19 situation. In the initial part of the Covid-19 epidemic, doctors were equated with the god, with accolades showered by the Prime Minister while addressing the nation. That followed symbolic honours like the sound of the bell on one Sunday, flashing lights on next Sunday and showering flower-petals by Indian Air Force on yet another Sunday. Such memories were short-lived for the frontline warriors – the doctors – who keep performing their humanitarian duties irrespective of getting bouquets or brickbats and more aggressively during any crisis. In fact, we should have sensed by now, that too much sweet can taste bitter after a while!
The threatening orders, of May 6 for mandatory duties of private doctors for Covid-19 patients and of May 19 for criminal cases against hospitals for not reopening, have negated the healthy ambience created a month back. Our war should be against the virus, not against each other! We experienced similar things during the initial days of HIV epidemic. There are many lessons to learn from HIV epidemic and take appropriate measures to adopt good ones and alienate wrong ones.
On May 6, the Maharashtra government notification made it mandatory for private doctors, below 55 and without any co-morbidity, report to Covid-19 designated hospitals in Mumbai, asking to provide treatment to the Covid-19 patients for 15 days. Failure to report to the hospital will lead to their medical license being revoked, invoking the Epidemic Diseases Act, Disaster Management Act, and Maharashtra Essential Services Maintenance Act in issuing this order. Maharashtra is the only state where such orders are enforced.
On May 19, the Brihan-Mumbai Municipal Corporation (BMC) Commissioner ordered slapping criminal offences against private hospitals, clinics and nursing homes that have failed to reopen and reserving 100 beds including 10 ICU beds of private hospitals in each ward (Mumbai city has 24 administrative wards) for Covid-19. Such noble thoughts were lost while sealing private hospitals. Finally on May 21, in consultation with private hospitals registered under the Public trust act, the BMC has taken over 80% beds of their beds capping daily all-inclusive hospitalization charges to Rs.4000 for bed, Rs.7500/- for ICU bed and Rs.9000/- for bed with ventilator support. Much awaited dash-board on bed availability was launched on May 25.
The intention is good, to serve Covid-19 patients that are on an upward spike as also non-COVID patients who are neglected, but the manner of getting it done is high-headed. This can be achieved through meaningful dialogue with representatives of medical bodies and trustworthy partnership. Harsher steps could be reserved if there is dereliction in discharging responsibilities. The rising Covid-19 trend is part of the natural history of this pandemic, as seen in different parts of the world, for which medical community is not responsible. Then why such crudity on us?
When Mumbai and Pune emerged as Covid-19 hotspots and medical frontline warriors were trying to outsmart the Coronavirus by providing untiring services despite some compromises on personal protective equipment (PPE) quality and quantity; there was a new worrying development- though expected. The healthcare workers started testing Covid-19 positive in one after another hospital. The shockwaves followed by coverage on 24x7 channels and punitive actions singularly against private hospitals by authorities. No such actions were initiated against public hospitals where the situation was similar if not worse. The analysis shows how the hospitals were shut down high-handedly first, blatantly defaming as if they are some 'Wuhan-like' centres spreading the virus and were threatened with criminal cases if they won't reopen immediately.
It started on March 14, with partial sealing of Mumbai's tertiary care Hinduja Hospital and quarantining 82 staff including doctors, when a 64-year-old heart patient tested Covid positive. He was shifted to Kasturba Hospital, though a designated Covid-19 centre but ill-equipped for critical patients and had no ventilator. On March 18, he died of Acute Respiratory Distress Syndrome (ARDS) and became Maharashtra's first Covid-19 and third in India.
On March 28, BMC had sealed Mumbai's Saifee Hospital, after 85-year-old retired urologist died of COVID-19 and his 50-year- old son found infected. And that set the ball rolling for more closures of private hospitals one by one. On April 6, the Wockhardt Hospital in Mumbai central was sealed and declared a containment zone by BMC, when 26 nurses and three doctors tested Covid-19 positive. On April 7, Mumbai's premier Jaslok hospital had a similar fate and BMC ordered it to be sealed too. Later all these hospitals were made dedicated Covid-19 facilities when BMC realized, they are short on Covid-19 beds.
On April 9, the BMC sealed Mumbai's Bhatia Hospital, after three emergency ward patients tested Covid-19 positive and was declared a containment zone. After 10 days BMC permitted them to reopen, but they couldn't, as their entire support staff is outsourced and the contractor refused to send staff as Bhatia hospital was widely defamed as city's worst Covi-hit place! Finally, Bhatia Hospital that had 45 Covid-19 infected staff, has reopened on May 12.
In this period, on April 9, while the staff of Breach Candy hospital has been quarantined after they came in direct contact with a patient, the BMC did not seal the hospital premises. This was possible because it is home to VVIPs and if all hospitals in the country's richest territory of South Mumbai are sealed, in case of an emergency where would VIPs or their families go?
In another issue, the BMC issued an order making physical examination mandatory for advising Covid-19 test and said any doctor doing so will face criminal charges in addition to the cancellation of medical license. Few doctors received show-cause notices on prescribing Covid-19 tests. This is contrary to what is being practised globally. A doctor is not expected to wear PPE to examine and prescribe Covid-19 test. If so, why and how were Covid-19 tests done on police, CISF, media personnel and other such groups, all without a physical examination or a doctor's prescription? The city has 25,000 registered doctors of which 30% or nearly 7,500 doctors would be around 60 years of age. Remaining 30% are employed with government hospitals. The Maharashtra Medical Council president Dr.Shivkumar Utture stated, "If a doctor is above 60 years and co-morbid, he will not open his clinic. That is why we have given the doctors permission legally and officially to consult patients on telemedicine and telephone. The aim is to see that emergency patients get advice or treatment".
Telemedicine is now legally allowed with the notification from Ministry of Health and Family Welfare, Government of India, enabling Registered Medical Practitioners to Provide Healthcare Using Telemedicine by the Medical Council of India on March 25, 2020 with its guidelines been prepared in partnership with NITI Aayog.
Doctors are always under threat, so also hospitals! Physical assaults, abuses and vandalism have become routine. Doctors hardly have any golden hours in their lives, beyond the joy derived onseeing recovery of critical patients and gratefulness expressed by other patients. The hope of winning war on Covid-19 is in two folds – to reduce its transmission in our country and to minimize its death rate. Undisputedly, the doctors play a pivotal role towards at least the later.
Authorities issuing orders for closure and reopening hospitals 'on drop of a hat' and expecting it to work like an electric switch, that too at during the current continued lockdown time since March 20, should think realistically. Several hospital staff stay in suburbs beyond the city-bus network. Mumbai's lifeline-local-trains are closed for over two months. Locals started skeletal services to ferry railways, essential service staff, on May 22, but not for medical caregivers. Other means of transportations and other logistics like maintenance of machines and equipment as well as food supply are severely impacted. Lack of coordinated actions have already cost us dearly and such circulars will do more harm than good. We don't want unhappy places (hospitals) and faces (doctors) to serve Covid-19 patients, in aiming at reducing case fatality rate.
References:
1. https://medicaldialogues.in/state-news/maharashtra/doctor-shortage-maharashtra-summons-private-doctors-to-report-for-compulsory-covid-19-duty-65533
2. https://en.wikipedia.org/wiki/COVID-19_pandemic_in_Maharashtra

3. https://www.mohfw.gov.in/pdf/Telemedicine.pdf
Dr. Ishwar Gilada is consultant in HIV and Infectious Diseases in Mumbai, is President AIDS Society of India and Governing Council Member, International AIDS Society. Email: gilada@usa.net
Disclaimer: The views expressed in the above article are solely those of the author/agency in his/her private capacity and DO NOT represent the views of Medical Dialogues.