Efforts to integrate traditional medicines with allopathy: Government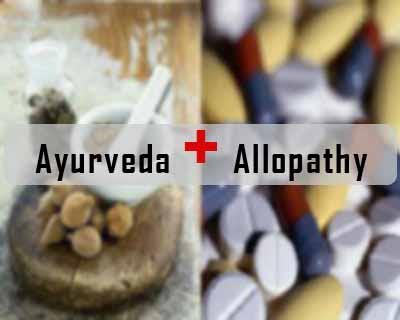 New Delhi: Efforts are on for integration of traditional medicines like Ayurveda, Siddha and Unani with allopathy for providing better treatment to patients and a pilot project is under way in six districts in as many states in the country, government told the Rajya Sabha.
Minister of State (Independent Charge) of Ayush Ministry Shripad Yesso Naik said there is increased demand for traditional methods of medicine and an MoU with WHO will soon be signed for research in traditional medicines like Ayurveda, Unani and Siddha.
Replying to questions, Naik also said that Indian and US scientists are jointly working on cancer medicine research and an MoU would be signed soon.
He said a team of 15 American scientists had come to India and are jointly working in evolving cancer research medicines.
The Minister said integration of traditional medicines with Allopathy is being undertaken in six districts across the country, where all health centres, primary and community, will provide treatment to patients by all methods for best results.
"We hope to bring integration of types of methods, including traditional, for best results... We have started it as a pilot project. If successful, we will introduce it in other parts of the country," he said.
He said a new building of Central Ayurveda Research Institute for Cancer research is soon coming up at Worli in Mumbai.
The Ayush Ministry is financing states through National Medicinal Plantation Board (NMPB) under centrally-sponsored schemes for plantation of medicinal plants across the country, Naik said.
Under one scheme, 100 per cent money is financed by Ayush Ministry, while in the other, 60 per cent funding is made by the Centre and the rest by states for promotion of medicinal plantations under National Ayush Mission, he said.
The Ministry has spent 97 per cent of its budget during 2015-16 and states' share of 100 per cent has been disbursed.
In his written reply, he said different research councils are looking after research and development activities in area of traditional system of medicines and a total of 10 herbal medicine research centres are functioning in the country.