Endoscopic endonasal skull base surgeries improve survival and Quality of life, says study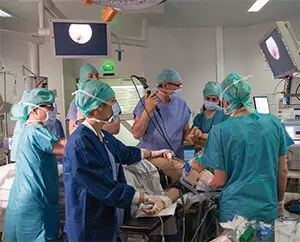 Endoscopic endonasal skull base surgery (EESBS) has been associated with a minimally invasive and effective approach for pathology of the anterior skull base and associated with less overall morbidity compared with open approaches.

With the evolution of skull base surgery with endoscopic endonasal approaches, a holistic appraisement of outcomes is vital, with a rigorous measurement of functional outcomes and not limited solely to survival rates. Herein, QOL gains paramount importance.
Researchers from the Department of Otorhinolaryngology Surgery, Ministry of Health, Riyadh, Saudi Arabia have recently found out that the overall SNOT-22 scores found to have improved the quality of life significantly with no long-term effects.
However, it is associated with its own potential morbidity related to surgical manipulation or resection of normal and noninflamed intranasal structures to gain adequate access. The assessment of sinonasal QOL (quality of life) post surgery is therefore a vital aspect in follow-up of these patients.
The study is published in the International Journal of Otolaryngology.
The authors conducted a single-center retrospective cross-sectional review with a sample of 80–100 patients, where they assessed the quality of life and morbidity after endoscopic endonasal skull base surgery using the Sinonasal Outcomes Test (SNOT-22).
Data were collected through hospital records and database, as well as from patients through phone call interviews. Records were reviewed for diagnosis, demographic features, and 22-item Sinonasal Outcomes Test (SNOT-22) scores noted at three points in time: prior to procedure and after, at 3 months and 6 months.
It was observed that within the study cohort comprising 96 patients, the mean age of the participants was 39.5 ± 12.1 years, and diagnostic typing before and after histopathological investigations revealed maximum pituitary adenomas (46.9%) closely followed by CSF-related ailments (41.7%).
Also, the changes in the mean and standard deviation of the total SNOT-22 scores postoperatively at the 3rd month (9.5 ± 5.4) and the 6th month (8.8 ± 5.2) were statistically significant when compared to the preoperative score (10.8 ± 5.1).
Hence, the authors concluded that "although there was a predicted passivity of symptoms in the post-EESBS period, several significant positive outcomes were seen."
The increase in discomfort in the sleep domains postsurgery is an issue to pursue and reason out. The overall SNOT-22 scores noted preoperatively and 3 and 6 months postoperatively showed statistically significant improvements in QOL with no long-term effects.
Source : International Journal of Otolaryngology