Novel therapies in managing Allergic rhinitis: How far have we come?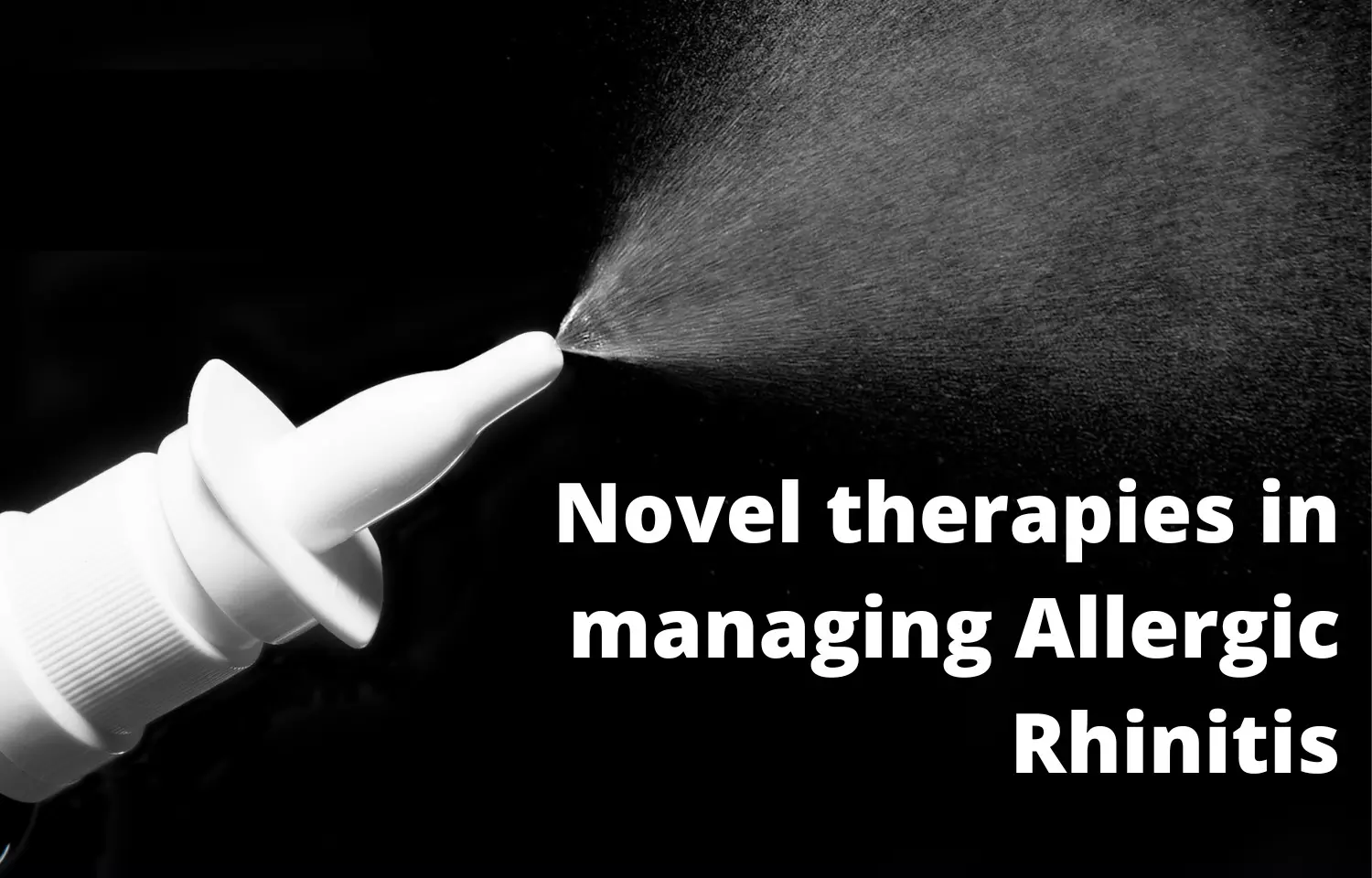 Allergic rhinitis(AR) is a common respiratory condition affecting 40 % of the worldwide population. Due to its shared pathophysiology with inflammatory disorders, including asthma, rhinosinusitis, and allergic conjunctivitis, its striking prevalence rates, and its huge impact on the quality of life, AR has been designated as a serious chronic respiratory illness. (1)
The pharmacotherapy of AR has undergone tremendous changes. Despite a myriad of pharmacotherapies that are now available for AR, growing research highlights that selecting the appropriate drug therapy should be soundly based on patient compliance, the efficacy of the molecule, and patient tolerability (2). With patient compliance getting unprecedented importance now, providing an optimized treatment for patients suffering from AR remains a challenge for physicians.

So, it is high time that the medical fraternity is aware of the most recent innovations in this field so that they can manage AR successfully.
This article aims to assess the novel therapies in the field of AR while providing a detailed perspective on how the new drugs and their combinations benefit their conventional counterparts.

Management of AR: Summarising the journey from traditional therapy to the advanced therapy-The treatment of allergic rhinitis has come a long way.
Starting off with first-generation oral antihistamines and decongestants in the 1920s and 1930s, the field of AR underwent a major revolution shortly after, with the introduction of topical corticosteroids in the market. These topical steroids gradually established their superiority and became the drug of choice for patients who didn't respond to the oral antihistamines. (3)

Aqueous and chlorofluorocarbon (CFC) nasal corticosteroid formulations became a key gamechanger in the field of AR. But, following the potential danger of global warming and ozone layer depletion, the CFC intranasal corticosteroid (INS) formulations faced a complete phaseout. They were replaced by agents containing non-aqueous hydrofluoroalkane (HFA) propellants. (3)
Launched in the US in 2006, a nasal preparation of ciclesonide, a steroid pro-drug that is only transformed to its active form upon tissue delivery, was another novel way of intranasal steroid administration. (4)
In 2007, the US Food and Drug Administration (FDA) authorized the use of a mist fluticasone furoate formulation. (4)
In 2012, FDA went ahead to approve aerosol devices using hydrofluoroalkane (HFA) propellant to deliver beclomethasone and ciclesonide. (4)
In 2012, FDA approved the first topical nasal product containing a combination of an intranasal corticosteroid(INCS) and intranasal antihistamine(INAH) and it has opened up unique possibilities in managing AR successfully. This agent combined azelastine hydrochloride and fluticasone propionate in an aqueous solution/suspension. (3)
Recent research has revealed the several benefits and superior efficacy of another breakthrough INCS /INAH combination- azelastine and fluticasone furoate, over the fluticasone propionate sprays. (5,6)
Overcoming the subtle nuances of traditional intranasal corticosteroids
Owing to their significantly higher systemic bioavailability, the older, first-generation INCSs (beclomethasone dipropionate, triamcinolone acetonide, flunisolide, budesonide) have lost their popularity now. (6)
Rather, these have been replaced by the second generation INCSs (ciclesonide, fluticasone furoate, fluticasone propionate, and mometasone furoate) which exhibit a much better pharmacodynamic profile. (6)
Fluticasone furoate- An Unique INCS-What makes fluticasone furoate stand out amidst other INCS? (7)
Several reasons which make fluticasone furoate stands out as a unique choice for AR among the newer INCs:
Fluticasone furoate is an enhanced-affinity glucocorticoid developed as an aqueous suspension using a unique side actuated nasal spray device for the treatment of AR symptoms.
Fluticasone furoate was formulated to reduce odor and nasal irritation associated with nasal sprays as it is unscented and alcohol-free. This gives it an edge over the conventional fluticasone propionate formulation.
Its unique delivery system comes with a shorter nose tip and supplies lower volume per actuation than previous systems.
Fluticasone furoate, 110 g once daily, is approved in the United States for the treatment of symptoms of seasonal and perennial AR in patients 2 years and older (7) while other such as fluticasone propionate is recommended only for 4 years and older (8).
Thus, armed with such unique features, fluticasone furoate nasal spray, has the potential to improve patient satisfaction and compliance, making it an excellent choice among intranasal steroids.
Study testimonials: Fluticasone furoate vs other intranasal corticosteroids
The onset of an action-A study comparing the efficacy of different INCS concluded that the onset of action for Fluticasone Furoate nasal spray was observed from the first day of treatment, whereas in the fluticasone propionate nasal spray group it was observed on the second day. This rapid onset of action is a result of its much higher receptor affinity than the fluticasone propionate. (5,6)
Once-daily dosing-Furthermore, data suggests that treatment with once-daily fluticasone furoate nasal spray is equally effective and non-inferior to twice-daily fluticasone propionate nasal spray in reducing nasal symptoms in AR. (9)
Patient preference based on the Sensory attributes -In a one of its kind study (7), Fluticasone furoate was preferred by double the number of patients, compared with fluticasone propionate, based on scent or odor (58% vs 27%, P .001). Moreover, significantly (P .001) more patients preferred fluticasone furoate compared with fluticasone propionate because less medication leaked out of the nose or down the throat (59% vs 21%), because of the gentleness of the mist (57% vs 26%), and because of less aftertaste (60% vs 18%).
What do guidelines say?
The 2016 update of the ARIA guidelines (as well as its consequent 2020 revision guideline) recommends combination therapy with an INAH and an INCS for patients with seasonal AR. This recommendation is logically based on the fact that the combination is more effective than INCSs alone. (2)

It has been documented that INAH - INCS combinations offer a single medication option that offers broader disease coverage and faster symptom control. Patients benefit from the synergistic actions offered by different mechanisms of each medicine class while administering the two drugs in a single device increases adherence to therapy. Furthermore, compared to consecutive sprays, a single spray application has been linked to a more uniform dispersion and higher nasal cavity retention. (2)
In this context, research highlights that scented INCS (fluticasone propionate) –azelastine (INAH) nasal sprays come with a strong aftertaste. (6) This may decrease patient adherence. This limitation has been addressed and overcome in the unscented fluticasone furoate –azelastine combination.
References
1. May, J. R., & Dolen, W. K. (2017). Management of allergic rhinitis: a review for the community pharmacist. Clinical therapeutics, 39(12), 2410-2419
2. Next-generation Allergic Rhinitis and Its Impact on Asthma (ARIA) guidelines for allergic rhinitis based on Grading of Recommendations Assessment, Development and Evaluation (GRADE) and real-world evidence. Journal of Allergy and Clinical Immunology, (), S009167491931187X–. doi:10.1016/j.jaci.2019.06.049
3. Ostrom, N. K. (2014, May). The history and progression of treatments for allergic rhinitis. In Allergy & Asthma Proceedings (Vol. 35).
4. Hoyte FCL and Nelson HS. Recent advances in allergic rhinitis [version 1; referees: 2 approved] F1000Research 2018, 7(F1000 Faculty Rev):1333 (doi: 10.12688/f1000research.15367.1)
5. Kumar R, Kumar D, Parakh A. Fluticasone furoate: A new intranasal corticosteroid. J Postgrad Med [serial online] 2012 [cited 2022 May 13];58:79-83. Available from: https://www.jpgmonline.com/text.asp?2012/58/1/79/93260
6. Fowler, J., Rotenberg, B. W., & Sowerby, L. J. (2021). The subtle nuances of intranasal corticosteroids. Journal of otolaryngology - head & neck surgery = Le Journal d'oto-rhino-laryngologie et de chirurgie cervico-faciale, 50(1), 18. https://doi.org/10.1186/s40463-020-00480-z
7. Meltzer E, Andrews C, Journeay G, Lim J, Prillaman B, Garris C, et al. Comparison of patient preference for sensory attributes of fluticasone furoate or fluticasone propionate in adults with seasonal allergic rhinitis: A randomized, placebo-controlled, double-blind study. Ann Allergy Asthma Immunol 2010;104:331
8. Grossman J, Banov C, Bronsky EA, et al. Fluticasone propionate aqueous nasal spray is safe and effective for children with seasonal allergic rhinitis. Pediatrics. 1993;92(4):594-599.
9. Meltzer EO, Lee J, Tripathy I, Lim J, Ellsworth A, Philpot E. Efficacy and safety of once-daily fluticasone furoate nasal spray in children with seasonal allergic rhinitis treated for 2 wk. Pediatr Allergy Immunol 2009;20:279-86. Dr Kamal Kant Kohli-MBBS, DTCD- a chest specialist with more than 30 years of practice and a flair for writing clinical articles, Dr Kamal Kant Kohli joined Medical Dialogues as a Chief Editor of Medical News. Besides writing articles, as an editor, he proofreads and verifies all the medical content published on Medical Dialogues including those coming from journals, studies,medical conferences,guidelines etc. Before Joining Medical Dialogues, he has served at important positions in the medical industry in India including as the Hony. Secretary of the Delhi Medical Association as well as the chairman of Anti-Quackery Committee in Delhi and worked with other Medical Councils in India. Email: editorial@medicaldialogues.in. Contact no. 011-43720751