ESI Hospital Doctors to now get 20 percent Non Practising Allowance-NPA: UP Cabinet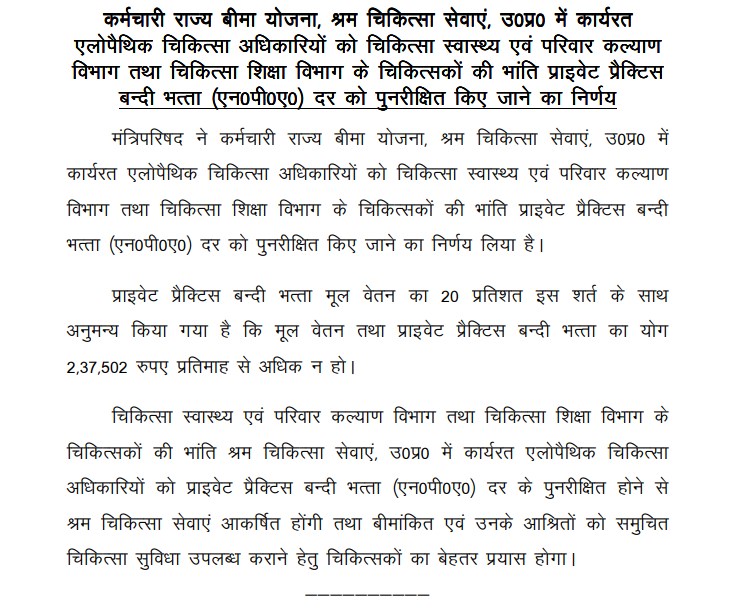 Lucknow: The doctors working at the ESI hospitals across the state of Uttar Pradesh now have a reason to rejoice as the state cabinet has announced to provide them with Non-Practising Allowance (NPA) at par with the doctors of the Provincial Health and Medical Services (PHMS) cadre working under the health directorate including department of health and family welfare and medical education.
The decision to this effect was taken by the Yogi led cabinet on December 31st 2019. It is expected that this decision will benefit over 200 doctors working in ESI hospitals across the state.
The NPA is a special kind of allowance paid to the medical professionals at the posts of Medical and Veterinary Services. It is given to the doctors employed by the central government and few state governments. It is a percentage based allowance and under the seventh pay commission, the NPA is paid at the rate of 20 per cent of the basic payment.
As per the recent state cabinet decision, the NPA has been allowed on the condition that the addition of both-- the basic salary and the NPA allowance does not exceed Rs 2,37,502 per month paid to the concerned doctors.
The effect is to make attractive the services at ESI hospitals for medical practitioners and motivate them to join ESI centres so that these hospitals provide better health facilities; same as private hospitals.
Speaking to the news agency UNI, a government official stated, "Under the new decision, the doctors working in ESI Hospitals will get 20 per cent of the basic pay scale as NPA. If a doctor's basic is Rs 1 lakh he will get NPA of Rs 20,000 per month."
Earlier doctors were getting just Rs 10,000 per month as NPA. The ESI hospitals are operated under the Labour department of the state government. The Provincial Health and Medical Services doctors get 20 per cent of the basic as NPA. The ESI doctors were waging a war for the last many years demanding an increase in their NPA.
Pertinently, the state is grappling with acute shortage of doctors and the government has taken several measures to overcome it over the last few years.
Read Also: Govt spends Rs 10 Crore in making 1 Doctor: Yogi Adityanath justifies 2 year Bond Service
In one such move, the salaries for contractual faculty have been increased. Earlier the state government had imposed the compulsory bond service.
Read Also: Contractual Medical Teachers to now earn 50 percent more: UP Cabinet Nod