Euthanasia Plea: HC tell govt to provide financial support, design Scheme to help terminally ill patients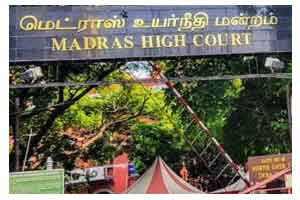 "If no such scheme was available, why not the governments formulate one by which such parents can maintain their children with financial assistance and medical aid from the governments throughout the life of the children," the bench said
Chennai: 
 The Madras High Court on Thursday directed the Tamil Nadu government and the Centre to consider financially supporting the parents of a nine-year-old boy who was in a vegetative state since birth, and also provide medical aid regularly.
Perusing the reports of medical experts on the condition of the boy whose parents moved the court for passive euthanasia, a division bench of Justices N Kirubakaran and S Baskaran said he needed good support and care as his clinical status does not fit into the criteria for "persistent" vegetative state.
While going through the expert committee's report, Justice Kirubakaran almost broke down in the Court and was seen holding himself back.
Advocating care by providing the boy nutrition, physiotherapy and anti-epileptic drugs, the bench directed the Central and state governments to consider whether it was possible to financially support the boy's parents through monthly financial aid and also provide medical support regularly.
The governments are further directed to file their response to whether there was any scheme to provide support to the parents of the similarly placed children by giving financial aid as well as medical aid, the bench said.
"If no such scheme was available, why not the governments formulate one by which such parents can maintain their children with financial assistance and medical aid from the governments throughout the life of the children," the bench said and posted the matter for further hearing to October 23.
R Thirumeni had approached the court, seeking permission to resort to passive euthanasia for his son, who, he submitted, is in persistent vegetative state since his birth on September 30, 2008.
The plea is the first such in the country after the Supreme Court in March this year held that the fundamental right to life guaranteed under Article 21 of the Constitution includes the right to live with dignity till the end and it, therefore, includes the right to die with dignity.
The petitioner's son T Paarvendhan also suffers from epileptic seizures, caused by a disturbance in the electrical activity of the brain, ranging between 10 and 20 times a day when controlled by medicines.
Thirumeni, a tailor by profession, has to spend Rs 10,000 per month to meet the medication expenses.
Following the appeal for passive euthanasia, the division bench on September 10 had directed a medical expert committee to examine the boy and report whether the persistent vegetative state criteria was fulfilled and if there was any scope for the boy's treatment.
Read Also: Passive Euthanasia: HC directs medical panel to examine 9-yr-old boy