Faculty crisis at new AIIMS - Govt to lay new Hiring Norms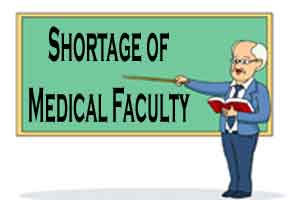 New Delhi: Red flagged by the severe faculty crunch at six new All India Institutes of Medical Sciences (AIIMS) branches, the government may soon lay down new guidelines regarding the institute's administration, recruitment and financing.
During a meeting of the Central Institute Body of all AIIMS institutions which met for the first time recently, the members discussed the problems they were facing in operationalizing new AIIMS at Patna, Bhopal, Raipur, Jodhpur, Rishikesh and Bhubaneshwar. The highlight of their problems included the severe faculty shortage. The body, which comprises 18 members, was constituted earlier this year to coordinate the working of all AIIMS institutions.
According to a recent media report, the vacancy rate in these institutes is whooping 61.85 percent. Statistically,


Out of 1, 830 sanctioned posts of faculty (305 per Institute), only 583 have been appointed.


Out of 22,600 sanctioned non-teaching posts, only 3,800 have been filled.


The worst affected by the faculty shortage (out of 305 per Institute) include AIIMS Patna, Raipur, and Bhopal.
Taking cognizance of the acute faculty crisis at these institutes, the government is now mulling to amend the AIIMS act, reports the Tribune.
The move to ease out hiring is a part of the broader measure taken by the government to attract the best medical talent to these institutes. Earlier, to smoothen the hiring process, the Health Ministry approved appointments at these instructions on contractual and deputation basis. It also Allowed visiting faculty at remuneration of Rs 6,000 a day for professors and Rs 4,000 a day for associate professors adds the daily
Another scheme to direct the best talent to these institutes included the direct hiring of AIIMS PG passouts who would be given an opportunity to be directly appointed as faculty at AIIMS of their choice.
Read Also: AIIMS PG Passouts to be hired directly at AIIMS as Faculty: Nadda
Apart from the six new AIIMs which are still awaiting faculty, the government is going ahead with plans of opening new AIIMs at Malkangiri, Nagpur and Kalyani by 2019.
Implying that the aim of the government is to replicate the New Delhi AIIMS, a Health Ministry official told Tribune, "AIIMS-Delhi has 42 functional super-specialities. Each new AIIMS has to reach that level. This is the challenge."
On that, another official said, "These institutes take time to stabilize. AIIMS-Delhi was conceived in the 1960s, but became what it is only in the 1980s."