Fire at cooperative hospital in Kerala, 85 patients shifted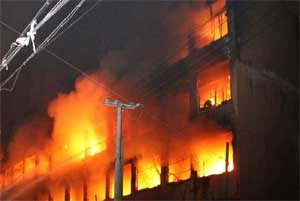 Kannur: A fire broke out in Thaliparamba Cooperative hospital, a CPI(M) controlled institution, on Tuesday in the wee hours, forcing to shift 85 patients and 20 staffs from the seven floor hospital block, due to suffocation.
No casualty was reported so far in the fire. Fire force personnel rushed to the spot and rescued the patients including, children, bystanders by using big ladders. Over 60 ambulances were used to shift patients to nearby Lourde hospital, Thaliparmba taluk hospital and Pariyaram Medical College Hospital(PMCH).
Five people were admitted at PMCH due to suffocation while the rest 80 have been admitted at Lourde hospital and Taluk hospitals at Thaliparamba
According to police, the blaze broke out around 0300 hrs from the pharmacy, functioning on the first floor of the hospital. It is prima facie suspected that short circuit was the reason behind the inferno. Within minutes, the entire hospital building was engulfed in smoke.
District Collector Mir Muhammed Ali, District Police Chief G Shiv Vikram and Thaliparamba DYSP K V Venugopal reached the hospital at early hours and lead the rescue operations.