FORDA delegates meet Parliamentary Standing Committee over NMC bill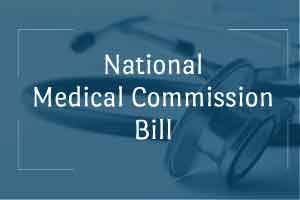 New Delhi: Representatives of Federation of Resident Doctors' Association (FORDA) submitted their recommendations regarding several provisions of the contentious National Medical Commission Bill, to the Parliamentary Standing Committee which is examining the proposed legislation.
The bill seeks to overhaul medical education, replace the Medical Council of India and also proposes allowing practitioners of alternative medicines, such as homoeopathy and Ayurveda, practise allopathy after completing a "bridge course". The NMC bill was introduced in the Lok Sabha in December last year and later referred to the parliamentary panel, following protests by doctors across the country.
Representatives of FORDA, an association for the welfare of resident doctors across India, was invited by the parliamentary panel for their recommendations. FORDA president Dr Vivek Chouksey said, "It (the Bill) promotes bureaucratisation and politicisation of medical education and does not provide independence to the NMC."
"Most of the members (of the proposed body) are nominated by the government and suggested by bureaucrats. The NMC Bill in the present form is not acceptable. It is anti-poor, anti-people, non-representative, undemocratic and anti-federal in character," he said. In its memorandum, FORDA sought removal of provisions for granting permission to practitioners of alternative medicines practise modern medicine after clearing a bridge course and an exit or licentiate exam that all medical graduates will have to clear to practice.
The FORDA delegates put forth objection over the privatisation of medical education. They also sought strict implementation of duty hours as per the Supreme Court guidelines, a uniform stipend for interns nationwide, strengthening of infrastructure in government hospitals and medical colleges and timely appointment of teaching faculty and filling up vacant post.
Medical Dialogues team had earlier reported that Answering point by point to the Health Ministry on its Clarifications in the form of FAQs on the issue of National Medical Commission Bill 2017, the Indian Medical Association has now released a point by point response to the said clarifications in the bill.