Former Miss World Manushi Chillar gets NOC to pursue MBBS at Mumbai Medical College, sparks Controversy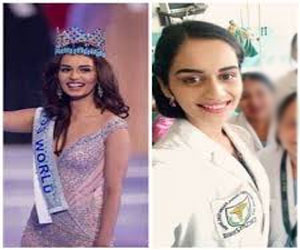 Rohtak: Everyone was excited when an MBBS student of a Haryana Medical college, Manushi Chillar was crowned the Miss World in the year 2017. However, since then, while she saw success in the world of glamour, her road to becoming a doctor has been marked by continued controversies
Earlier, Manushi was encircled with rumours stating that she had been banned from attending her MBBS examinations. Now, recent controversies have cropped as she received a NOC (No Objection Certificate) on her application seeking migration to a Mumbai-based medical college. As per recent media reports, allegations have surfaced stating that the NOC was issued while putting all the rules on hold primarily for the former "Miss World".
Manushi took admission as an MBBS student in Bhagat Phool Singh Women's Medical College in the academic year 2015-16. After winning the title of Miss India in June 2017, she applied for leave. She has not reported to the medical college since then. Since she is residing in Mumbai and her family has shifted there; post the Miss World title, she wants to pursue the remaining part of her MBBS course in Mumbai.
Read Also: Banned or not: Controversy surrounds Miss World Manushi Chillar's MBBS examinations
A month ago, she reportedly filed an application seeking migration from Bhagat Phool Singh Women's Medical College to a Mumbai-based medical college. However, allegations shelled up after the NOC was issued by the Pandit BD Sharma University Rohtak, to which the medical college is affiliated to.
As mentioned in a recent report by the local daily Amar Ujala, similarly as Manushi; a Kashmiri student had applied for migration to another medical college due to apparent issues at Kashmir in the year 2017; however, her application was refused and has not been considered till date. At the same time, for the former Miss World, Pandit BD Sharma University Rohtak issued the certificate in just 15 days.
Manushi allegedly applied for NOC without giving a concrete reason for the migration; besides she hasn't furnished any document from the medical college she intends to migrate to. It has been alleged that the NOC has been furnished putting the rules on hold for her and without taking permission from the Medical Council of India (MCI), reports Amar Ujala.
The authorities of Pt BDS University of Health Sciences, Rohtak, maintain that a NOC has been issued, as per Tribune.
Speaking to Amar Ujala about the issuance, the Registrar at Pandit BD Sharma University informed, "A NOC has been issued to Manushi Chillar about 15 days before the University. She wants to enrol in a college in Mumbai. I came as a special case for me. On his file, the BPS College administration sent no objection, on this basis the NOC has been issued."
Read Also: Indian Medico Manushi Chhillar crowned Miss World 2017
If any MBBS student wants to migrate from one medical college to another, then he/she has to apply only after passing the examination. The medical college, the student wants to migrate into, shall give the NOC stating that a seat is vacant there and they do not have an objection to admitting the student at their institute.  The MBBS student is required to provide a valid reason for the migration. After submitting all the requisite documents with the medical college administration, the information is sent to the University, from where the application is forwarded to the MCI, who gives its permission. Then only, a NOC is issued.
Read Also: MBBS student who lost year at Kannur Medical College deserves Compensation: SC