Gigantic 9.4 kg fibroid tumour removed at Delhi hospital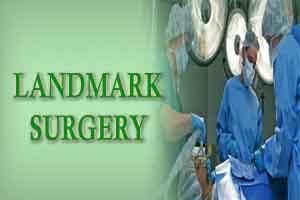 A team of doctors at the Max Super Speciality Hospital, at Saket in the national capital, recently successfully removed what they believe to be the world's heaviest fibroid removed laproscopically.

The 9.4 kg fibroid -- non-cancerous tumours that grow from the muscle layers of the uterus -- was removed from a morbidly obese woman weighing 117 kg.

"This is the world's largest fibroid of the uterus removed laproscopically," advanced gynae endoscopic surgeon B.B. Dash, who led the surgery team, said.

"Because the patient was on the heavier side, she could not feel the tumour for a long time which must have grown for about six years," Dash said.

Only a few weeks ago, she noticed a protrusion of a growth from her abdomen. On examination, the doctors diagnosed the growth as a gigantic fibroid.

Uterine fibroid sizes vary from the size of a coin to the size of a melon. In a woman who has a normal body mass index or BMI or is slightly overweight, fibroid tumours can also be mistaken for weight gain or pregnancy, an official statement said.

Due to the patient's excessive weight and sheer size of the tumour, the surgery took about eight hours to be completed, the statement added.

Obese people have a much higher risk of facing complications during surgery, such as surgical site infection, venous thromboembolism (obstruction of a blood vessel by a blood clot), and wound complications, said the team of doctors that also included Anuradha Kapur, head of department of obstetrics and gynaecology at Max Super Speciality Hospital, Saket.

"The patient was released on day four and she is doing fine now," Dash said.